Pope Francis asks forgiveness of the Rohingya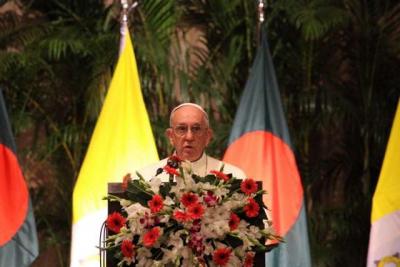 Pope Francis speaks to authorities in Dhaka, Bangladesh. Photo from Ed Pentin/CNA
DHAKA  - Pope Francis has spoken the word "Rohingya," deliberately unused thus far on his pastoral trip around Myanmar and Bangladesh, as he explained to 16 Rohingya that the spirit of God was with them.
 The pontiff had come to perform mass in Suhrawardy Udyan Park in Dhaka. As he drove around the crowds in his popemobile, he managed to escape being staked by a wooden pole falling down from a trellis. Fortunately, a group of well-wishers managed to grab the pole and prevent a tragedy.
 Although there are only 380,000 Catholics in Bangladesh, the country has recently requested 16 new priests to aid the faithful, and the Pope's mass managed to draw a crowd of 100,000 according to witnesses. Families from the Cox Bazar refugee camp received special attention from the Holy Father, and some of the refugees left crying with emotion after speaking with Pope Francis.
 The pope blessed the children and shook the hands of one of the women, while saying "I ask your forgiveness for the indifference of the world" to what the refugees had experienced in their flight from Rakhine, Myanmar. He expressed his gratitude towards those who came to see him, saying that he knew some "made a trip for two days to be here."
 With the help of an interpreter, Francis was heard telling the families that "the presence of God today is also called Rohingya," as well as saying that "I am close to you, the situation is very hard." He asked those who came to meet him to "not turn away" from each other and the situation.
 Francis had not previously mentioned the word Rohingya, so as not to offend the people of Myanmar who do not officially recognise the majority Muslim group. However, using theological language, the Pope was able to express his sentiments and closeness to the group after arriving in Bangladesh.