Bimillenary Coliseum dressing in white and blue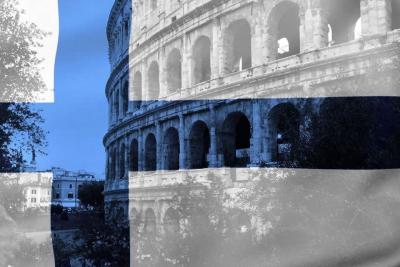 Photo by Diego Bortone/Suomen Rooman-instituutti
 ROME - On the evening of Dec. 5 visitors of the Coliseum will have the opportunity to attend a particularly impressive and probably unique event of the ancient amphitheater: it will be lit with the colors of Finland, blue and white, which are also the colors of its flag. On Dec. 6, the Centenary of Independence of Finland is celebrated, and Italy, like many other countries in the world, celebrates in this original way an event that represents a historic achievement for the young Finnish republic; so that a monument two thousand years old pays homage to a community that got independence only one hundred years ago.
 The national colors represent the blue of the waters of the thousands of lakes and the white of the winter snows in the country, as described by the poet Zacharias Topelius when he designed the first flag ahead of the current one, designed by artists Eero Snellman and Bruno Tuukkanen, which was adopted in 1918.
 Illumination is one of the many events that Finland has organized during this 2017, both at home and abroad, to celebrate its 100th anniversary. The official Suomi100 program (Finland100), which contains more than 5000 initiatives, is available online in English: http://suomifinland100.fi/?lang=en
 The lights will light up on a surprise time, and the Coliseum will be illuminated throughout the evening of December 5th.
 To convey the event and to send wishes to centenary Finland on social media, the hashtags are: # suomi100 # finland100 #onneasuomi #congratsfinland.
 You can follow live on: yle.fi/news
The official channel of communication of Centennial initiatives Suomi100: @SuomiFinland100
Portrait of poet Zacharias Topelius. Photo from Helsinki University Museum