Anti-Mafia raid results in 27 arrests in Sicily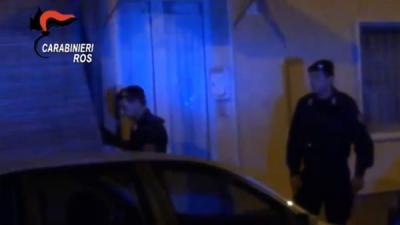 ROME- ROS caraninieri have made 27 arrests in an anti-mafia raid in Siciliy. The raid, carried out against the Mafia clan of Santa Maria di Gesù, came after a lengthy under cover investigation of the criminal gang's dealings.
 The decision to embark on this mass incarceration on Tuesday came after the heads of the family could be identified. The leaders of the clan would choose who to make made men, "men of honour," after numerous meetings in a Guadagna shaving room where five would have to choose the boss.
 The raid was undertaken after the reorganisation of the clan, as well as an understanding of its hierarchy, was understood. The family is known for its "pervasive ability to infiltrate the local economic fabric" in the provincial Sicilian region.
 The crimes brought against the 27 range from mafia association, fraudulent asset transfers, and conducting illegal gambling businesses, to drug trafficking and extortion.
The names are listed below:
Antonino Ilardi, born in Palermo, 75 years 
Antonino La Mattina, born in Palermo, 25 years old 
Antonino Palumbo, born Palermo, 44 years resident in Monreale 
Antonino Profeta, born in Palermo, 28 years old currently held in Voghera 
Antonino Tinnirello, born in Palermo, 57 years old 
Christian Pizzo, born in Palermo, 24 years old
Cosimo Vernengo, born in Avola, 51 years old resident in Palermo 
Cosimo Vernengo, born in Palermo, 43 years in prison at home
Francesco Fascella, born in Palermo, 79 years old 
Francesco Immesi, born in Palermo, 28 years 
Francesco Pedalino, born in Palermo, 39 years old currently in Terni 
Gabriele Pedalino, born in Palermo, 21 years old currently in Prato
Gaetano Messina, born in Palermo, 52 years old 
Girolamo Mondino, born in Palermo, 83 years old 
Giuseppe Confalone, born Palermo, 47 years old 
Giuseppe Contorno, born in Palermo, 69 years old 
Giuseppe Gambino, born in Palermo, 84 years old 
Giuseppe Natale Gambino, born in Palermo, 59 years now detained at Secondigliano 
Giuseppe Tinnirello, born in Palermo, 29 years old 
Giuseppe Urso, born in Palermo, 58 years old 
Lorenzo Scarantino, born in Palermo, 23 years currently held in Pagliarelli 
Pasquale Prestigiacomo, born in Palermo, 64 years old 
Pietro Cocco, born in Palermo, 58 
Salvatore Binario, born in Palermo, 34 years old
Salvatore Gregoli, born in Palermo, 59 years old currently in Pagliarelli
Salvatore Lo Iacono, born in Palermo, 55 years old 
Salvatore Profeta, born in Palermo, 72 years old currently held Tolmezzo 
kvh