Migrant protester killed by car near Venice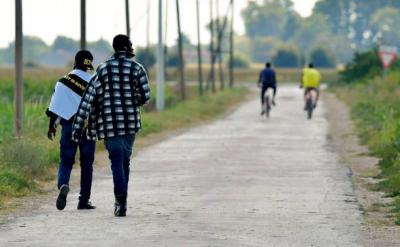 ROME - A migrant protestor was killed during a silent protest march from Venice to Rome, police said Thursday. The incident occurred when the man, a 35 year old from the Ivory Coast, was hit by a car. The protest was against the living conditions in the Cona reception centre in Venice.
 The protestors planned to march from Venice to Rome. Wednesday night, the first night of the protest, the mayor, Annunzio Belan, offered for the protestors to sleep on buses yet the protestors refused as it would diminish the visibility of their march. Shortly after, the man was struck by the car.
 The marchers lodged in a church that was opened by under the orders of a Bishop. The group cleaned the church as a token of gratitude towards the Bishop's hospitality.
 The details surrounding the incident are unclear. It seems the man was on a bicycle and trying to rejoin the rest of the demonstrators. A companion of the deceased, another man from the Ivory Coast, was reportedly also injured in the accident.
 This is not the first time that the inhabitants of the Cona reception centre have protested. In January 2017, a much more rowdy demonstration than the 200 strong silent march broke out after a young woman died in the facility. Sandrine Bakayokowas, 22, died of a pulmonary embolism yet the death ignited into anger over the living conditions the 1,500 inhabitants were forced to endure.
 The first protest, less than a year ago, has not had the effect that the inhabitants of the Cona reception centre would have liked. Conditions have not improved significantly enough for them to brave the northern Italian winter for three days in order to facilitate change.
kvh