Fifty requests for rescue from floods on Adriatic coast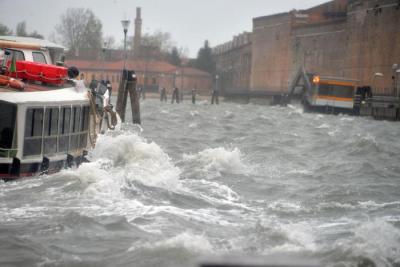 ROME– Flooding has plagued the Adriatic coastal interior of the Italian peninsula. The areas in which the weather conditions have been listed as posing high, or very high, risk to the population are: Campania, Tuscany, Liguria and Emilia-Romagna.
 The majority of the flooding is located between the provinces of Pescara and Teramo. Disruption to transport is being felt acutely in Teramo in which the SS 16 has been flooded between the towns of Silvi and Pineto.
 The fire department of Chieti province dealt with 50 requests for rescue, including 2 Chinese Citizens who were trapped by the flood waters while driving through an underpass by Sambuceto di San Giovanni Teatino, a stretch of road that has subsequently closed by Mayor Luciano Marinucci.
 Flooding is causing major damage to the infrastructure of the region. Reportedly, damage of personal property is a rife as basements, garages, and taverns are filled with flood water. Additionally, sea water is spilling over defences and rivers (especially the Pescara, the Piomba and the Saline) are expected to burst their banks.
 The heavy rains have loosened the soil and landslides are becoming a danger. One disabled person had to be evacuated after the integrity of a hill close to their residence posed a threat to their lives. Schools and Universities across the area are closed in light of the danger to life.
 The Red Cross, Civil Protection, and local police and fire departments are working throughout in order to minimise the damage and protect the lives of those endangered by the weather conditions.