Police and army to oversee Ostia election Sunday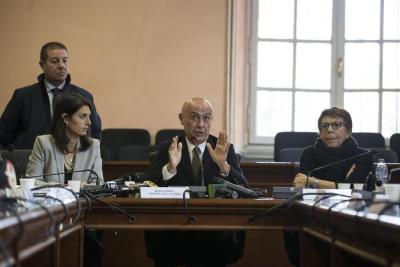 Vriginia Raggi, Marco Minniti
ROME - The Italian Minister of the Interior, Marco Minniti, has called for measures to ensure against tampering in the second and final round of elections for the mayor of Ostia. The measures called for plain clothed politce to be present at the 183 polling stations across Rome's tenth municipality. Anti-terror (DIGO,) anti-fraud, carabiniere, and mobile police units will make up the joint task force that will ensure the safe guard of the democratic process in Ostia. The army will be tasked with defending the ballots and transport them to be counted.
 The measures were decided upon during the provincial committee on public order and security on Wednesday morning. Present at the meeting were Interior Minister, Marco Minniti; Roman mayor and acting mayor of Ostia, Virginia Raggi; as well as various representatives of law enforcement.
 The concern for the security of voters and votes alike arose after members of the Spada clan were loitering outside polling stations for the entire day of the primary election on Nov. 5. Recently the Spada clan has entered international news after Roberto Spada head-butted a RAI reporter in the face on live camera.
 Spada is now in custody for the assault, however, the RAI investigation into possible ties between the mafia clan and the neo-fascist CasaPound party, winner of nearly 10 percent of the vote, are still concerning. More details are to be found here.
 The election, due to take place on Sunday, is a head to head race between candidates from M5S and a coalition formed between Brothers of Italy and Forza Italia. 
kvh