Slovenian President wins with lowest voter turnout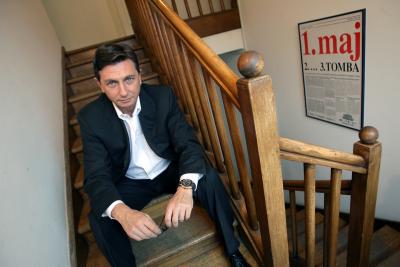 President Borut Pahor. Photo by Matej Družnik/Delo
LUBLJANA - Borut Pahor has been elected for his second term as Slovenia's President, winning 52.94 percent of the vote. President since 2012, Pahor has enjoyed a high level of popularity during his time in office. Yet, it may be telling that his race to victory, against a relatively unknown demagogue, was a close one.
 The 54 year-old Pahor, of the centre-left Social Democratic party, explained that his success signals "that the citizens want force and political ideas that unite. This result is one of the few in Europe, that confirms the confidence in those who have already served a mandate, and that the voters are looking for stability."
 Pahor has announced that he will make use of this second 5-year term to listen more closely to the 2 million voices in Slovenia, and has stressed that his government will make its diplomacy and dialogue transparent.
 Pahor's campaign was criticised for not addressing issues of major concern, such as youth unemployment and the collapse of the health care system. Pahor's opponent, the 39 year-old Marjan Sarec appealed to large swathes of the populace in his attacks on sluggish economic growth, which has decreased by 8 percent since the economic crash of 2009. Forcing the President into a second run-off race, Sarec won 47 percent of the vote in Sunday's election. As a former actor and mayor of Kamnik, a small town north of Ljubljana, his high result in the election signals disillusion with the incumbent President Pahor.
 Dissatisfaction with politics as it stands in Slovenia is also seen in the low voter turnout. Sarec has interpreted the turnout of 42 percent, a record low for the Slavic country, as revealing disaffection for traditional politics. The fact that Sarec was able to enjoy such a high result, despite his centre-left party Lista Marjana Sarca not holding any seats in Parliament, does lend support to his theory.
 Sarec's popularity mirrors the success of other fringe movements across Europe. CasaPound, the Italian political movement, won a surprising 9 percent of the vote in the Ostian elections earlier this month, and the German parliament features right wing AfD party members for the first time.
 Slovenia's parliament is also holding elections next year. Slovenian news sources are suggesting that Pahor's supporters hope he will provide moral guidance to those elected into power, but do not believe that he will bring any new change in his own right.
 Pahor is the only President to have previously held the positions of both President of the National Assembly and Prime Minister, and he held the latter position during the worst financial crisis in Slovenia's history in 2009. The role of the Slovenian president is mainly ceremonial, but it does lead the army and nominate several top officials, including the central bank governor. Pahor has received congratulations from all the Slovenian political forces, and from some heads of state.