Church denies sex abuse among Pope's choirboys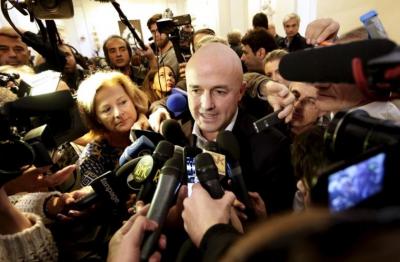 Gianluigi Nuzzi is questioned by reporters after the release of his investigative book
VATICAN CITY - A former Polish seminary student has denounced what he claims is alleged sexual abuse in the elite Vatican pre-seminary of choirboys who sing in St Peter's Basilica for Pope Francis.
 Kamil Jarzembowski is quoted in the book entitled "Original Sin" by Vatican investigative reporter Gianluigi Nuzzi saying he witnessed his 13-year-old neighbour in dormitory at the Pius X seminary in the Vatican being regularly abused by an older seminarian, now a priest, and that his formal denunciation to the Vatican after leaving the seminary was effectively ignored. 
 The assault has been described in the TV programme "Le Lene" (the hyenas) as well.  The student revealed that "during the night when there was no superior in the corridor ... he entered the room, he lay in the bed and he began to touch the intimate parts. The first time I was 13. It was my first approach. I did not even know exactly what was happening. I did not have a full conscience of those acts."  
 Jarzembowski explained that hierarchy played an important role in the abuse. "Even the harasser was a boy, but he had a position of power within the seminary and also in the Basilica of St Peter's. He was not a normal seminarian because he enjoyed great trust from the rector."
 The former rector of the pre-seminary, for boys with an early vocation for the priesthood are nurtured by the Church, has strongly denied the claims.
 "Original Sin" reports on a number of sensational claims, alleging that Vatican priests often engaged in gay intercourse with boys, while the Popes concentrated their attention on their multi-million euro bank accounts. The book produces documents from the Vatican's bank, revealing accounts of Pope Paul VI and John Paul II and their personal secretaries. Nuzzi has stated that he is in possession of 15 documents describing alleged abuse of the Pope's clerics. 
 On top of this, Nuzzi has stated that "the Pope has summoned and met those who witnessed sexual abuse that took place in the Vatican pre-seminary of Pius X." There is, however, no evidence that any such meetings took place. Greg Burke, the director of the Holy See's Press Room, has tweeted "Falsehood on the clergy in the Vatican: the Pope has never received a presumed victim or any witnesses." Whilst these meetings may not have taken place, that does not necessitate that the incidents reported in the book are completely false.  
By contrast, Mons. Enrico Radice, an altar server, responded to the allegations by stating "you invented everything! Invented everything!"
hl-jp