Remembrance Day commemorated by moving ceremony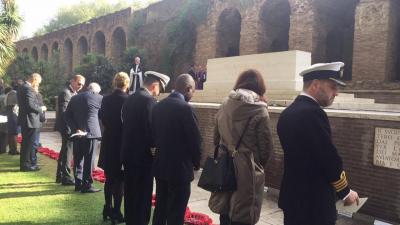 Ambassadors prepare themselves to observe the two minute silence and pay their respects. Photo by Helena Leslie
ROME - Representatives from Commonwealth embassies and militaries, religious groups and citizens of Rome gathered in the Commonwealth War Graves cemetery in Testaccio Friday to pay their respects to fallen soldiers. The cemetery is home to 426 Commonwealth service personnel who lost their lives serving in the Second World War. 
 Fr. Jonathan Boardman conducted the ceremony, firstly paying tribute to the representatives of the Anglican, Roman Catholic, and Presbyterian churches who were in attendance. He dedicated a special thanks to the Islamic Cultural Centre for sending a representative to the ceremony, poignantly highlighting Remembrance Day as a time to pay respect to all countries and faiths.
 The first passage to be read aloud was the hauntingly beautiful WW1 poem "In Flanders Field" by John McCrae. From this work came the tradition of wearing a bright red poppy on the lapel of one's jacket to remember those fallen in war.
 The trumpet horn tooted as a two minute silence, in honour of the armistice on Nov. 11 1918, was observed. Representatives bowed their heads and members of the military directed their salutes to Father Boardman. The attendees were then asked to follow Father Rory Handley in a prayer commemorating those who died as a result of the world war, and school children from St George's International School respectfully read out a line or two each from the prayer "Lord, make me an instrument of your peace."
 Ambassadors stationed in Rome one by one laid red poppy wreaths, and stood to attention before their tributes, in honour of the men and women who died in service. Many of the wreaths were decorated with notes of prayer, and touching sentiments. Expat groups and military organisations also laid down their poppies in memory of their predecessors' work.
 Fr. Boardman lead the attendees in paying respects to the world's religions. Edward Mura from the Commonwealth Club in Rome read a passage from the  Christian gospel, while John McGee observed a passage from the Hebrew tradition. Work from Paul Fleischman of the Buddhist faith was read out, and Rahman Mohammad from the Islamic Cultural Centre in Rome sang a verse from the Qur'an. Respect was paid to the Hindu faith, as Fr. Boardman discussed the principles governing violence, and highlighted that disciplined and reverent action should be honoured above all else.
 The attendees then traveled to Villa Wolkonsky, the home of British Ambassador Jill Morris, for refreshments and more discussion of the significance of the world war.
hl
Representatives from the embassies in Rome laid their wreaths down in front of the crowd. Photo by Helena Leslie