Journalists protest in Ostia against assault on RAI workers
Journalists line the street outside the gym. Photo from ilfattoquotidiano.it
ROME - Journalists took to the streets Friday morning to protest the attack on one of their kin earlier this week by a member of the Spada clan in Ostia. 
  Friday morning 60 journalists from various newspapers and websites marched in Ostia, meeting in front of the gymnasium on Via Forni where the assault took place. They asserted the right to have "freedom to work without violence." Italian journalist Marco Lillo stressed the importance of the march by stating that "it must be a reiterated concept that in Italy there must not be places where the truth cannot be sought."
Journalist Daniele Piervincenzi and filmmaker Edoardo Anselmi were assaulted by Roberto Spada while filming for the Rai2 program "Nemo Nessuno Escluso." They were visiting the region to interview Spada on his family's connections to CasaPound, who just won a surprising 9 percent of the vote in the Ostian elections.
 Judicial sources have stated that a criminal probe has been opened following the attack, and Spada has subsequently been arrested by Italian authorities. He is accused of grievous bodily harm with "mafia methods," due to the severity of his attack. His actions allegedly break Article 7 of Law 152 of 1991, which forbids private violence and aggravation in a mafia context. The arrest warrant was signed by Giovanni Musarò of the law-enforcement authority DDA Capitolina.
 Spada was caught on tape breaking the nose of the RAI journalist with a headbutt and lashing out with a baton, as the filmmaker continued to roll even during the attack. Medical sources have stated that Piervincenzi is expected to recover in 30 days from his injuries. 
 Spada has accused the crew of asking repeated questions of him, and of "forcing their way into a members-only-club, disturbing a session and frightening my son." He has also expressed his outrage at his treatment by journalists as "in the last ten days, at least 30 journalists have come to break our balls, patience has a limit."
 In response, Virginia Raggi, the Mayor of Rome, tweeted "Spada clan violence unacceptable. Solidarity with journalist and filmmaker attacked in Ostia. We'll stop crime and extremism in Rome." Roberto Spada's brother is currently serving 10 years in jail for extortion and having mafia connections. 
The protestors of Friday morning are not alone in their outcry against the attack. In a show of support, Raggi has also called for a rally on Satuday against violence in Ostia.
 However, some residents of Ostia are singing a different song, as they believe that this media attention is only short-lived and does not take into account fully the struggles of the region. "Now you are here because they broke the nose of one of you but we have not seen you journalists before and we will not see you later when the dust has settled. This is a territory that the state has abandoned for years." 
hl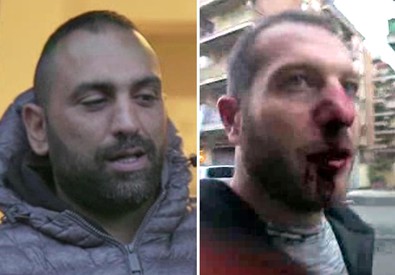 Roberto Spada, and Daniele Piervincenzi following the attack. Photo from nuovosud.it