Venice protected as cruise ships banned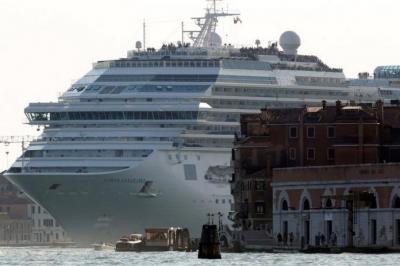 The MSC Magnifica docked in Venice. Photo from explo-re.com
VENICE - Cruise ships are no longer allowed to dock outside the historic St Mark's Square, but will have to land in the less beautiful spot of Marghera.
 The move has been decided in Rome by a committee for Venetian strategy after six years of controversial discussions. It has been debated by those who support tourism, and those who have feared for the safety of the landmark Palazzo Ducale, as the cruise ships sail by only a few meters away.
 UNESCO had threatened to label the city as in-danger, under-populated by caring locals and witnessing only passing tourists. Italia Nostra, Italy's heritage body, has previously called Venetian attempts to protect the city as simply "empty promises but no concrete proposals." Campaigners for the redirection of the ships have argued that the waves produced from the ships erode the banks as they glide down the Guidecca Canal.
Now, there have been some definite steps to listen to environmental and historical concerns, regardless of an impact that may have on tourist routes.  The Undersecretary Pier Paolo Baretta has described the solution as representing "a point of balance between environmental protection, territorial development, and entrepreneurial activity."
The decision was announced by the Minister for Transport Infrastructure Graziano Delrio. He explained that over 3-4 years, the ships, in total weighing over 55 thousand tonnes, will be transported to Marghera. This will aid commercial traffic, according to the minister, as the Porto del Lido will no longer be blocked by these colossal structures.
hl