Ancient bull brought back to life after ISIS destruction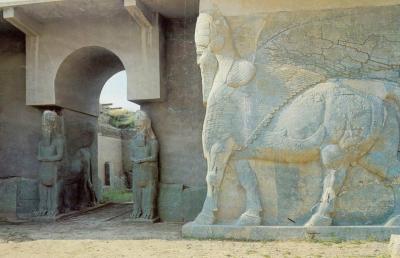 An example of an Assyrian bull. The one pictured here was from the North West Palace of Ashurnarsipal II before its destruction in 2015. Photo from Wikipedia
PARIS - The Assyrian Nimrud bull, destroyed by Isis in March 2015, has been recreated by the cultural heritage thinktank Incontro di Civiltà under the leadership of Francesco Rutelli, former Mayor of Rome. It has been unveiled at the UNESCO headquarters in Paris.
 The human-headed winged bull stands 5 metres high and was created in the 13th century BC to ward off evil in the city of Nimrud, the ancient capital of the Assyrian Empire, in present-day Iraq. As Isis destroyed monuments across the Middle East in an attempt to prove their might, historians were left powerless as if the legendary Library of Alexandria was burning right before their eyes. UNESCO condemned the destruction committed by Isis as a war crime, as millennia of history crumbled.   
 Rutelli has described the process by which they have recreated the bull. "Certainly we do not want to make a kind of Disneyland, but to bring the masterpieces of the war zones back to life using specialist studies and as much as possible the original materials, and respecting also the the state of conservation the works had before they were destroyed." The restoration of the bull was made possible using private funds. "Many museums, including Paris, have asked us [to give the bull to them], but we want to give it to Iraq," said Rutelli.
 This priceless piece of ancient imagery has been preserved, albeit as a copy, but nonetheless is a triumph for archaeologists and historians, as well as for the people of Iraq who saw a piece of their cultural heritage stolen.
 Faryad Rawanduzim, the Iraqi Culture Minister, is also set to meet with the Italian government to agree the reconstructions of other monuments and historic sites.
hl