Italy capitalises on Brexit with Indian trade deals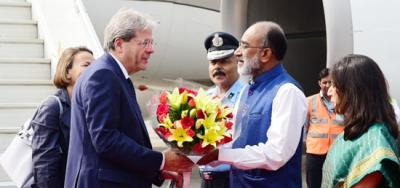 Paolo Gentiloni and Narendra Modi
ROME - Italy and India are flirting with the idea of deepening economic ties. The Italian Prime Minister, Paolo Gentiloni, travelled to New Delhi to visit Narendra Modi, the Prime Minister of India, in a symbolic show of unity after diplomatic relations cooled following the 2012 incident off Kerala. To those of us without rose-tinted glasses, money talks. There is certainly a lot to be talked about between the two nations who wish to expand their 8.8 billion dollar bilateral trade in the coming years.
 Why now? Italy is India's 13th largest trade partner, and the 5th largest in the eurozone. As Brexit looms, UK's spot as number one within the EU is soon to be vacant, and, if commonwealth trade agreements fail to come through for the UK (read our story here,) they risk losing their position as India's 4th largest trade partner.
 Indian-Italian trade has dipped in recent years, no doubt hurt by economic recession and the cooling of political relations after two Italian marines fired upon an Indian fishing boat, killing two, in 2012. After a 2 year long ordeal, the situation was satisfactorily resolved and, given Brexit, the economic imperative to strengthen relations won out.
 The Indian economy is evolving rapidly as the country develops. The current large-scale exportation of manufacturing materials makes up much of India's current contribution to the Italian economy, with goods including: iron, cast iron, steel and ferro-alloys; organic basic chemicals, refined petroleum products, plants for the production of beverages, footwear, tanned leather, vehicles, plastics in primary forms, dyes and pigments. Italy's exports demonstrate a more specialised contribution to the same industries: machinery for textile, garment and leather industries (parts and accessories included,) general purpose machinery, special purpose machinery, organic basic products, parts and accessories for vehicles, taps and valves, paper and cardboard, machine tools for metal shaping, ornamental and building stone.
 While bilateral trades remain in India's favour by 961 million euros, further expansion into similar industries as well as the development of new ties in the industries pertaining to India's coming developmental maturity are vast.  In a joint statement from the two countries, Modi "called upon the Italian industry to explore India's untapped business opportunities in the infrastructure, food processing, renewable energy, and high-tech manufacturing sectors." India's increasing need for technological development, especially in areas pertaining to infrastructure, presents more opportunities for joint industrial research and development projects. Areas such as advanced materials, smart manufacturing, clean water technologies and cultural heritage preservation (an especially promising area) present Italy with an opportunity to increase their involvement the sustainable development of India.
 Investment is also an increasingly lucrative prospect. India's efforts to clean up business practices and the development of infrastructure that increase the efficiency of trade open the door to foreign investment. As Europe's 3rd largest national economy, Italy is a valuable investor for India. Italian businesses are hardened veterans in the area of corruption which perhaps gives them a competitive advantage over England, the Netherlands, Germany, and France who currently have more lucrative trade deals with India.
 This is an exciting time for Italian-Indian relations. There seems to be a large amount to be gained by both countries in terms of trade, technological innovation, and investment.
kvh