Teams' fatigue showing in Series A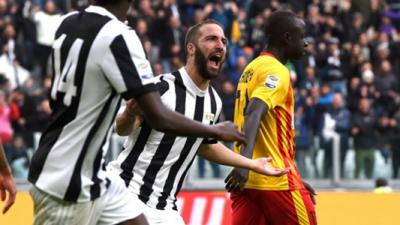 ROME - In a dramatic turn of events, Benevento scored a goal against league front runners Juventus. Benevento, dead last in the league and with odds as low as 1/75, managed to score, before losing 2-1.  Benevento coach Roberto De Zerbi took the goal against the front runners as a sign a hope and insisted that the team can turn around their 12/12 losing streak, the worst start to season in the big European leagues since Man United in 1930. Perhaps De Zerbi is counting in years rather than weeks, even then, from rock bottom the only way is up.
 Juventus Coach Allegri said that star player, Dybala "needs to get some fitness back and a bit of that sparkle. It'll happen when he comes back from international duty." Despite scoring in 11 of the past 12 games, the team conceding a goal against the Benevento underdogs has left a sour taste in the team's mouth as they battle for the top place against Napoli.
 Luckily enough for Juventus, Napoli drew 0-0 against Chievo and, thus, haven't extended their lead. The team is showing battle fatigue after their match against Manchester City in which the team lost 2-4. Coach Sarri defended the loss and said "the problem is that Manchester City force you to do a lot of running, changes of pace, and using up a lot of physical energy. Right now missing two big players like Ghoulam and Milik represents a problem." Perhaps the team will regain some vigour and turn around this slump.
 Roma has continued to play extraordinarily well in their 4-2 victory against Fiorentina. After their 3-0 win against Chelsea, the team are demonstrating their fierce potential for offence. Their recent win has entered them into the history books as they have now become the first team to win 12 consecutive away games, a result that puts them alongside Caesar in terms of victory on alien soil.   
 Milancoach Montella breathed a massive sigh of relieve as he watched his team beat Sassuolo 2-0 after threats that he would be fired if he failed to come home without a victory over the weekend.
 The top spot is anything but secure as the tired Naples team maintains a lead of one against Juventus (32-31.) Nor is Junventus safe from behind as Inter stands at 30 after a 1-1 draw against Turin. Roma is looking threatening against Lazio, threatening to take their place in the top tier (27-26,) yet this remains to be seen as Lazio's game against Udinese is postponed. Despite Udinese trailing Lazio in 13th place, the results over the weekend, especially that of Juventus, have only gone to show that 12 weeks in teams are fatiguing and anything is possible.
kvh