Fascists to march through Rome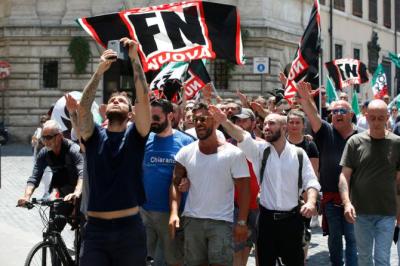 ROME - The New Force march is scheduled to take place on Saturday in Rome. The march was originally meant to take place on Oct 28 in order to coincide with Mussolini's famous march. New Force is a neo-fascist organisation and member of the Alliance for Peace and Freedom, an anti-Semitic, anti-globalist, ultranationalist league.
 The march was originally banned, and still might be, due to Roman authorities denying permits, presumably as a result of not wanting to allow neo-fascists to celebrate the 95th anniversary Mussolini taking power. Due to fears that the members of the party, and presumably also their friends from the Peace and Freedom alliance, will be anything but peaceful or respectful of other's freedom as they go about their weekend. Postponing the march until Nov 4 is itself a possibly controversy as the day is ironically meant to celebrate the armed forces and national unity.  
 The police have assured the public that they will monitor every step taken of the march and that they are going "to document any illegal behaviour that will be pursued with rigor." The group is, no doubt, unhappy with the strict police presence, a concern that is certainly far from the minds of the Roman police who wish to simply get through it and "ensure the smooth running of the event and to avoid acts beyond legality."
 Police have coordinated with the organisers of the event in order to ensure safe entry and exiting from the event. Concerns over possible violence between protestors and counter protestors are of central importance to police who wish above all else, for the group to satisfy their right to free speech while causing the least amount of disruption possible.
 The group's secretary,Roberto Fiore, has interpreted the authorities allowing for the march to take place as a sign that "the regime is weak, that anti-fascism no longer exists in the social fabric." This statement lacks merit given the Jewish community's silent march on Oct 15 to mark the anniversary of the Jews being expelled from Rome by the Fascists. The Mayor presumably won't be joining Fiore as she did the Jewish community. 
kvh