New FAO DG "currying favour" with corporations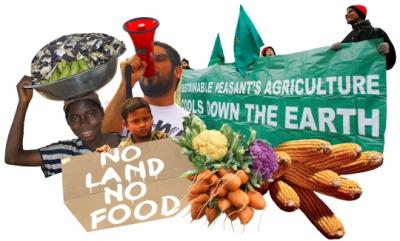 By JAN FILIPOWICZ
ROME– As Graziano Da Silva prepares for his inauguration as new Director General of the Food and Agriculture Organisation (FAO), the international peasants' movement La Via Campesina has cautioned that the Brazilian economist's policies at the helm of the UN agency will "encourage land grabbing" and reinforce big corporations' control of global agriculture.
 "From Da Silva's perspective, in order to help reduce poverty we will buy goods from transnational corporations who have control of the global food market," Horacio Martins Carvalho, a member of La Via Campesina Brazil told Real World Radio. Graziano's proposed policies that he wants to implement after his inauguration at the Rome-based famine-fighting agency Jan. 1 suffer from "the big contradiction that in order to get out of povety we need to subordinate to transnational corporations," Carvalho said.
 Martins was responding to remarks by the FAO Director General elect to the IPS agency in which he criticised movements like Via Campesina: "Unfortunately, some social movements have a point of view that is negative to themselves, and to a certain degree it paralyzes them to defend the idea that family farming and agribusiness are incompatible, that they are competing systems." Based on the "Hunger Zero" Program implemented by him under Lula's government in Brazil, Graziano says the hunger problem worldwide should be based on corporate agribusiness since "investing in fighting hunger is a good business with great profits."
 Speaking in Curitiba, Brazil, Martins for his part countered that Graziano's declarations "are consistent with the defense of the international capitalist interests. He doesn't see the class struggle as a principle in society, but he is for the conciliation of classes where governments implement policies to support transnational capitals and poverty reduction policies, but always keeping the dominance of capital".
 He claimed that food is currently a system dominated by the big corporations, since there are 500 companies that control food and agriculture globally. In spite of this, 1 billion people suffer hunger.
In the interview with IPS, Da Silva said "a great part of family farming is now related with the agribusiness supply chain. So the idea of fighting this model has a paralyzing effect. For family farmers it would make much more sense to fight for the development of local markets where they demand fresh food that cannot be traded in the international market".
 Graziano's perspective will further land concentration and land grabbing, which is exactly the opposite to family, small-scale agriculture defended by peasants which, they claim, is the only alternative to create jobs and to cool down the planet, according to Martins.
 Graziano was being sworn in as FAO Director-General Jan.1, although his presentation in society will take place at a conference on agrarian reform and rural development in Mar del Plata, Argentina, in March.
 Meanwhile the FAO has let it be known that in future it will only be issuing one year contracts to new employees rather than two or three year tenures offered frequently in the past, UN sources said. The move, evidently at Graziano's suggestion, is designed to reduce the number of FAO emplpyees who qualify for permanent employment by virtue of working for six years, after which they cannot be dismissed under UN  agency rules, the sources said.