FTSE 100 on the up as Milan slumps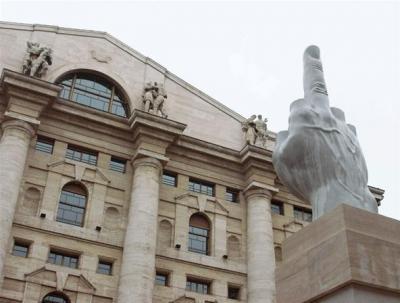 ROME - European stock exhanges makes a weak start to the week with the exception of London with the FTSE 100 up by 0.76 percent in the morning. The increase, which has since dipped to 0.68 percent, is largely due to the Bank of England's decision to raise interests rates for the first time in a decade to 0.5 percent. The move was not controversial among the Monetary Policy Committee which voted 7-2 in favour of the decision in reference to low unemployment and global economic growth. The UK is seemingly hopeful for the short term as they raised the forecast of economic growth in the coming year from 1.3 to 1.5 percent. One can see these moves as an attempt to strengthen the economy against the rough weather ahead.
 GBP enjoyed peaked yesterday at its highest value since September against the Euro at 1.14. The pound has since dipped slightly due perhaps to attempts to sell the fact following the Bank of England's announcement.
 The Milanese stock exchange is weaker than their English counterparts as the FSE MiB decreased by 0.3 percent today, seeming in line with the 0.27 decrease of Munich's DB DAX's 0.27 percent decrease. The general trend of the Italian economy is upwards yet, with 1 percent projected growth this year and 0.8 for 2018, the depreciating euro can only do so much to bolster the economy through exports. Business investment is on the up while private investment is stumbling behind.   
 The Italians have recently attempted to capitalise on Brexit as their prime minister, Paolo Gentiloni, visited India to strengthen the relationship between the two countries ahead of attempting the expand trade between the two countries. Indian prime minister, Modi, said there are "ample opportunities to strengthen our commercial cooperation. There is a lot of potential for our bilateral trade of about $8.8 billion to grow much further."
 Italy, like the Venetians of old, is looking eastwards in hopes of becoming the passage through which India deals with the Eurozone economies. 
kvh