Halloween 'incompatible with Catholic faith,' cardinal says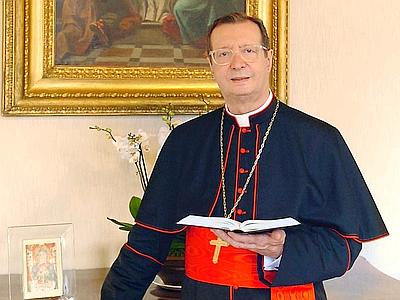 Cardinal Lajolo. Photo from alchetron.com
VATICAN CITY - The popular holiday of Halloween has been scorned by former Cardinal Giovanni Lajolo for being an irreligious festival that allows people to perform satanic rituals.
 Halloween is a "horror festival inconsistent with Catholic faith but also with human reason," in the view of Cardinal Lajolo, the Emeritus President of the Governorate of Vatican City State. The Cardinal admits that Halloween today is mostly celebrated "without any religious reference, simply as a horror festival, promoted by substantial commercial interests." He describes his own experience carving pumpkins as a child, and participating in the festival himself.
 However, there are those who are not simply painting on some cat whiskers, or demanding sweets. The Cardinal is of the view that "groups of spiritualists" actively participate in the festivities "with the intent of evoking the spirits of the dead or of demons." Their activities are "superstitious, or even magical, completely irreconcilable with the Catholic faith, but I would say it is irreconcilable, in fact, with human reason and common sense."
 This is not the first person holding Catholic beliefs to speak against Halloween. A few years ago, a group of Catholic exorcists called for an end to Halloween as we know it, and for it to be replaced with "Holyween," an evening dedicated to reverence for the saints. Fortunately for the candy industry, these proclamations against the holiday do not appear to have affected the attitudes of the 179 million people around the world expected to spend 9.1 billion dollars celebrating the festival this year.
hl