Would be Tuscany president embroiled in housing scandal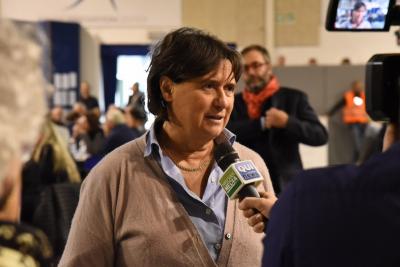 Stefania Saccardi. Photo from regione.toscana.it
FLORENCE -- Aspiring left-wing Regional President of Tuscany Stefania Saccardi was at the centre of a mushrooming personal housing scandal Monday after it emerged she lives in subsidised housing for the poor belonging to a Church foundation run by the Catholic diocese of Florence while being the owner or co owner of as many as 14 properties earning income allegedly not declared to the Italian taxman.
Ms Saccardi, alderwoman for health and social policies in the regional government and a member of the former communist Democratic Party seen as a fervent supporter of former Prime Minister Matteo Renzi, obtained her home for a peppercorn rent from the charity which receives 5 million euros per year of regional funding and is committed to providing housing for those with proven economic difficulties. The organisation is reportedly is run by her brother Simone on behalf of the diocese.
 Counsellor Saccardi strongly denies abusing her position for personal gain, saying she entirely restructured the flat at her own expense, but opposition politicians have called for her resignation. So far, she has not produced a copy of the rental contract or the details on the rents of her properties. Ms Saccardi explained this as "when it comes to 'bare property' as in my case, the property declaration is not necessary. This is because there is nothing gained from those properties, they give me no income, neither to me nor to my brothers. We inherited them, and the income that comes from it goes entirely to my mother, who pays her taxes."
 Ms Saccardi has defended her position in an interview in La Nazione, stating that the story involves "personal attacks which have nothing to do with politics." Some of her supporters are not refuting her claim, but instead are using this story as a negative example on the need for greater social housing management.
hl-jp