A month of fire, Northern Italy engulfed in flames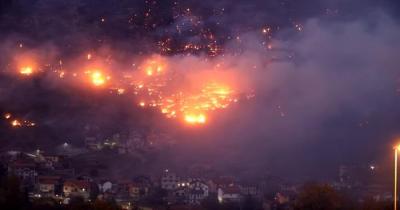 ROME - Fires have been raging across the Piedmont Region in Northern Italy from near the French border out to the borders of Lombardy.
 A 20,000 square foot region has already been consumed by the flames. A testament to the efforts of the 250 fire fighters and 600 volunteers, only one man, 26, lost his life in a heroic effort to save his family from suffering the same tragic fate as he did.
 "The strong, hot, dry wind that is coming down from the Alpine chain has aggravated the situation," said Franco Licini, coordinator of Piedmont's Civil Protection. There have been more than 300 fires since Oct. 10, yesterday alone efforts were made to put out 39. The army has been called in to assist the fire fighters, strengthening the supply chain to the front line of the blaze.
 Nearly 200 elderly were evacuated yesterday from a care-home, 30km west of Turin. Schools are being closed in the western area of Lombardy due to fears that the fires will spread into the region. 
kvh