Napoli top of the league after 3-2 win against Genoa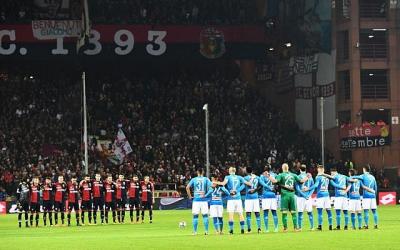 GENOA - Two beautiful shots by Dries Mertens, and an own-goal from Genoa's Ervin Zukanovic have allowed Napoli to regain their position at the head of Serie A.
 The match had a slow beginning from Napoli, Genoa confidently maneuvering around their home stadium, and Genoa's Adel Taatabt slid a goal past Pepe Reina into the net at the fourth minute. Around the tenth minute, Napoli's fight truly began and Dries Mertens scored in the 14th minute from a free kick. Napoli then launched into a game of attacking possession, and Genoa couldn't stop Mertens' second goal at 30 minutes.
 A fast ball from Lorenzo Insigne allowed Mertens to shoot it straight to goalkeeper Zukanovic. A light touch from Genoa's Zukanovic into the net gave Naples the 3-1 lead. Naples-born Genoa defender Armando Izzo managed to slip the ball past Napoli's Reina, bringing the score to 3-2, but Napoli's rigid defence secured their lead, and brought them back up to the top of the league. Naploli's win against Genoa on Wednesday is a heavy improvement on recent performances, and allows them to continue dominating the first division.
 The Wednesday league matches saw Milan's 4-1 victory over Chievo, and Lazio leave with a comfortable 2-1 win against Bologna. Juventus remains just three points behind Napoli after their 4-1 win against Spal. 
 The Serie A games were marked by another memorable event: a passage of Anne Frank's diary was read out to the crowds, and a moment of silence was asked for in memory of the victims of the Holocaust and in support of the Jewish communities of Italy. This forms part of an effort to condemn anti-Semitic attitudes, brought to the limelight again this week with anti-Semitic slogans and images found in the Olympic Stadium after a Lazio match. 
 Lazio players warmed up in shirts containing a printed photo of Anne Frank and the words "No to anti-Semitism." Lazio and Bologna fans listened to the passage in silence and followed with applause, although it appears that a group of Lazio's hard-core "ultra" fans did not attend the match in protest. On top of this, before entering the stadium, around 100 Lazio fans reportedly shouted fascist slogans and raised their arms in the fascist salute. Thus, the matches were overshadowed by the racial tensions playing out in Italy at the moment. 
 The ranking of the teams following Wednesday's matches are: 
1) Napoli - 28 points 
2) Inter Milan - 26 points 
3) Juventus- 25 points 
4) Lazio - 15 points 
5) Roma - 21 points 
6) Sampdoria - 17 points 
7) Fiorentina - 16 points 
8) AC Milan - 16 points 
9) Atalanta - 15 points 
10) Chievo - 15 points 
hl