Italian actresses reveal sexual harassment experiences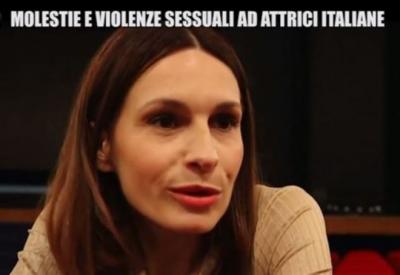 Giorgia Ferrero speaking on the Le Lene series
ROME - A series of interviews released on the weekend, titled Le Lene, reveal more cases of Italian women being sexually harassed while working in the media industry. The interviews include actresses Tea Falco and Giorgina Ferrero. Following the recent accusations of sexual assaults by producer Harvey Weinstein, more Italian women are coming forward to talk about their experiences.
 Giorgia Ferrero has accused a Neapolitan director of harassment over Whatsapp. In Nov. 2016 she has said that she was asked to send nude photographs to the director to check if her "measurements" were right for the part. Upon her refusal, he called her a "mammal" and suggested that "maybe this part isn't (sic) right" for her.
 As well as taking part in the interview series, Italian actress Tea Falco has released a statement on Twitter revealing a sexual harassment incident that occurred when she was 21 years old. In her post she explains that she had planned to meet with an Italian director, and that his office turned out to be his home. She describes him attempting to touch her, and being able to tell him to stop. "I was strong because I said no, but some 19 year-old girls are not so strong, they have not had the right education." She followed this with an appeal to schools to teach women how to defend themselves.
 Falco also thanked actress Asia Argento, who last week accused Weinstein of rape, for opening up the dialogue on harassment. "This violence towards women must stop," she writes in capital letters in her post. This sentiment is shared by many, and Falco used the hashtag #violenzasulledonne to reach out to those people on social media.
hl