Outrage over Lazio fans' anti-Semitic graffiti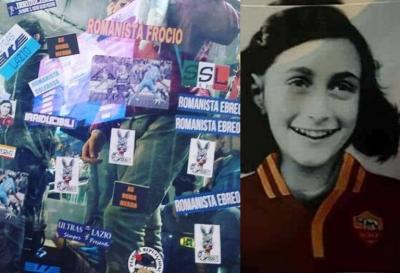 ROME - Grafitti depicting Anne Frank, and containing anti-Semitic slogans, has been found left over from at the Lazio-Cagliari match at the Olympic stadium on Sunday night. Stadium cleaners are said to have found the stickers a day after the match. 
 Anne Frank is viewed by many a symbol of resilience and strength in the face of the Nazi regime, and the museum dedicated to her legacy in Amsterdam receives more than million visitors each year. Rome's Jewish community has immediately spoken out in protest of the findings of the graffiti, and the President of this community, Ruth Dureghello, condemned the football fans' actions with the words "this is not curva, this is not soccer, this is not sport. Get the anti-Semites out of the stadiums." Her post on Twitter included a photo of Anne Frank wearing a Roma tshirt, and another photo bearing the words "Jewish Romanist." The sticker and slogans can be seen in the image posted onto a glass wall at the stadium.
 FIGC, the Italian Soccer Federation, has announced that they would "in all probability" open a probe into the incident, while sports minister Luca Lotti promised that "the culprits will be caught and punished." As reported directly to ANSA, Lazio spokesman Arturo Diaconale has called the fans a "minute number of fools" who were "threatening Lazio with damaging material and images despite all its efforts to keep apace with the times. 
 The grafitti was found in the southern end of the stadium, where Roma's dedicated fans sit for their home matches. The northern (curva) end of the stadium where Lazio's 'greatest' fans usually sit has been closed for the month due to racist chanting during a match against Sassuolo. The home seats for Lazio will also be closed off when Udinese visits the stadium on Nov. 5. 
 Italian President, Sergio Mattarella, has also criticised the actions of the Lazio fans by stating that "the face and pages of Anne Frank's diary, her history of suffering and death by Nazi barbarism, has moved the world. Using her image as an insult and threat, as well as being inhumane, is alarming to our country, infected, eighty years ago, by the dull cruelty (sic) of anti-Semitism."