Opinion: New York restaurants battle recession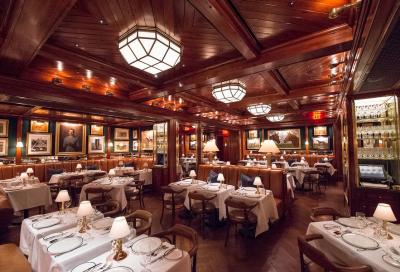 NEW YORK - In just a short walk around Broadway, you will immediately notice a large number of spaces for rent. These are mostly restaurants. Restaurant owners are all remarking how much more difficult it is now to operate a restaurant.
 So what is really happening? Why have so many restaurants closed in the past two years and why are restauranteers investing in overseas venues in the Middle East and Asia? After all, many restaurants seem full.
 It is undeniable that the economy has slowed in the past couple of years, and that restaurants respond in performance to the pulse of the economy. Dining out is a luxury, and when faced with a recession, customers tend to cut out on restaurant visits rather than more primary goods.
 The internet and delivery service are booming, and bringing business to establishments. However, the price war has brought down the quality of service. This is the case even for customers who prefer at-home dining where they can order food and buy a bottle of wine from the local liquor store, and then enjoy dinner in front of the TV. This doesn't save them as much money as it used to, compared to paying for the occasional nanny when going out to eat at a restaurant.
 Tax and city regulations are exponentially increasing in the big city. The cost of personnel in the past few years has gone from 35 to 55 percent if you add labour taxes, state and federal taxes, and all new insurances that were not in the equation a few years ago.
 In these past few years, the city of New York has also increased the controls and penalties of the hygiene grading system. Through this system, an inspector will walk into an establishment at least every 6 months and will find a series of violations. To achieve an A grade, you cannot collect more than 13 points. In many cases, this is almost impossible and it is often dependent on the inspector's judgement. The next step is to go down to a downtown tribunal (OATH Tribunal) where violations can be disputed by an agent or a lawyer, adding to costs.
Most of the establishments receive an A grade, but in exchange for clearing violations, the city gives fines which can range from a few hundred dollars to several thousands. However, if the establishment is in financial distress, and is unable to pay the fine, the city will not renew the annual license. This means effectively shutting down the establishment, a fate that in most cases is common of small and medium businesses.
 Landlords too have their own agenda. For unrented spaces, the city of New York offers some great tax breaks. A landlord might allow a renter to come in with the understanding that while he does get a great lease now, after a few months the landlord might come back to renew the establishment and can ask for a bank loan to help them pay for any new property. They will be very happy if the new business fails because they will be able to rent the property for a much higher price, and they get a tax break from the city at the rate of the new asking price. This effectively gives them a chance to pay the loan that they just got from the bank, and if they can't, then they might just sell the property and never fall into debt.
 Lawsuits from workers have also exponentially increased, for reasons like sexual harassment discrimination or tips distribution. Now there are some cases where those lawsuits are based on true facts, however, it takes just an allegation to begin a costly and lengthy process that will often put the establishment under pressure. Just by default these cases are in favour of the workers, and it may just take a badly placed word while giving an instruction to a worker to create a case.
 Unfortunately, the restaurant business, and kitchens in particular, are very hot places where people work under pressure, and so kindness is not often part of the system. However, what might be acceptable on a soccer field where coaches scream at players to obtain a victory, may not apply in the restaurant business.
 Unruly customers also exist. They may hurt a business by faking a fall, or writing a review just to hurt the business. In the case of small cafes where the internet is free, they stay in the premises for hours while hiding food in their bags, again lowering profit.
 Finally, since many think that restaurants are a cash cow, a lot of people (not professionals of the business) with a so-called 'dream' have inflated the scene with a high number of establishments. These are in fact bringing down quality and price, as well as the overall restaurant experience as we know it.
 Hopefully New York can rebound back, and people can once again enjoy the restaurant experience for what it used to be. In the past it was a moment of gathering, forgetting phones, and enjoying great food from professionals, that now are flocking to the city.
Vincenzo Pezzilli has worked as a top chef in China, Italy and New York for the past 25 years. He moved to New York in 1997 after working with renowned chef Paul Bocuse and worked upwards through the city's classic Italian restaurants, such as Coco Pazzo. In 2012, he opened his own restaurant in New York Gastronomia Culinaria.