The Belle of Amherst, a portrait of Emily Dickinson

English Theatre of Rome. PHOTO: VITTORIO CARDINI
 ROME - "I had a terror-since September-I could tell to none-and so I sing, as the Boy does by the Burying Ground-because I am afraid," wrote Emily Dickinson, the recluse who wrote in riddles. Gaby Ford captures Dickinson's struggle to make sense of the life she has led, her struggle understand her life through the stories of her past. 
 Dickinson was born in 1830 in Amherst, Massachusetts: a small town in which her family were a prominent part of the community, she grew up much like any other girl from a happy family. Emily drew back from society dissatisfied, becoming a recluse and wearing pure white, her colour of passion.
 The Belle of Amherst, written by William Luce, takes place in the latter part of Emily's life, an older woman now who never married, still clad in white. Gaby Ford's portrayal of Emily emphasises the contradictions of her character. At once she is girlish and awkward, vulnerable and in need in approval, later she becomes ironic, detached, and rejecting the society which she failed to find a place in.
 Imogen Kusch's direction is grounded in Dickinson's isolated domestic reality while succeeding to show her imagination moving beyond the narrow confines of the homestead she confined herself to since 25. Ford is on stage alone. voices call her from the ether.
 She moves around the stage attempting to explain decisions, maybe to herself. There is a melancholy to this interpretation of Emily's life. The monologue is punctuated by shadow puppets, scenes from Dickinson's past, from her imagination that visualise with her poetry (which she referred to as thoughts).
 Various episodes of her life are meandered around-- rejections by men who later die in the civil war, the rejection of her work by publishers, and love that escaped her.
 Dickinson's eccentricity is shown to be as much as a reaction to her various disappointments as her unique perspective of her small world. She is shown to be a woman who feels that the path that her life has taken was not completely her own and is deeply pained by this.
 Nervousness and the characteristic emotional intensity that is obvious in Dickinson's poetry wash over Ford's face, break slightly in her voice, as she speaks. This play is a character study that goes beyond a simple attempt to summarise the persona behind a famous voice.
 The portrait of Dickinson as an older woman, committed to her life yet too old to start again. The pain she feels over her choices torments her -- her reluctance to publish, never leaving home, isolating herself. This play offers no definite way to view Dickinson's life as a whole, other than her greatness as a poet, the audience is left to interpret whether Dickinson's life is a good one.
 The show will be performed Wednesday, Oct. 25, Saturday Oct. 28 at the English Theatre of Rome at John Cabot Univsersity, and Monday 30. Oct at Teatro Arciliuto, piazza montevecchio 5.
 Ford's wonderful one-woman show will go on with the Klesidra theatre company under the continued direction of Imogen Kusch.
kvh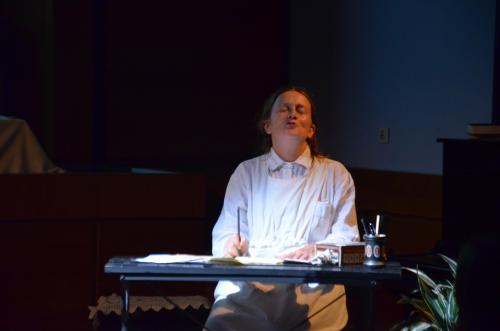 Actress, Gaby Ford. PHOTO:VITTORIO CARDINI