Death toll of migrant boat collision climbs to 30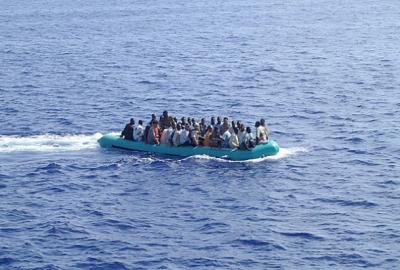 Tunisian migrants from a previous trip. Photo by Micniosi
TUNIS - A boat carrying 70 migrants collided with a Tunisian ship off the North African coast Monday, throwing the human cargo into the sea, maritime sources said.  As many as 30 people have drowned from the migrant ship, according to La Stampa. The boat is believed to have left the Tunisian port of Sfax on its way to Sicily. According to the Tunisian Ministry of Defence, which has opened an investigation, the collision appears to have occured as the larger Tunisian military boat approached the small wooden migrant boat to question what was inside. 
The numbers of migrants to Italy's shores have increased recently, with 1,400 Tunisians reaching Italy last month, compared to 1,350 in the first eight months of the year. This dramatic rise has been explained by some sources as deriving from the recent crackdown on smugglers' networks in Libya. This mission has seen a rise of the so called "ghost boats," on the shores of Lampedusa, Agrigento and Linosa. The boats have been given this nickname as Coast Guards have been unable to spot any people in the vessels in the morning; the migrants had all fled during the night. However, since the operations in Libya, the ghost boats have been appearing in the daytime as well. It has been suggested that migrants of Tunisian descent, such as the ones in the collision on Monday, are attempting to reach France, as it has a common language, and simply pass through Italy en-route. 
Maltese authorities were hurrying to co-ordinate relief after the collision, as the incident took place in waters under their jurisdiction. These rescue services also include Italian naval units: a Finance Police vessel, a Navy ship and two boats from the Lampedusa Coast Guard . Immediate first aid was delivered from the other ship involved in the collision, and 38 people were saved from the water. 
 jp-hl