Fugitive urban guerrilla toasts release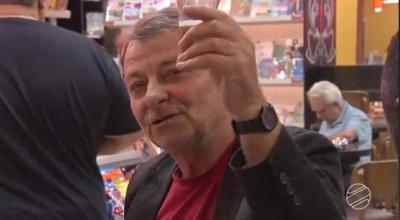 Cesare Battisti. Photo by ilpiccolo.gelocal.it
RIO DE JANEIRO - The former Italian leftist-terrorist Cesare Battisti celebrated in an airport bar last weekend as he was provisionally released by the Brazilian authorities. Battisti has been convicted of four murders in Italy in the 1970s, but escaped from prison while awaiting trial and eventually found asylum in Brazil.
 Italy has requested his extradition, and earlier last week the Brazilian government after 15 years eventually lent their support to this demand. Local Brazilian media reports are suggesting that the government is continuing to respond to Italy's request, even though Battisti was allowed to return to his home by the authorities.
 Battisti had been held for several days after attempting to cross over the border from Brazil to Bolivia, but has been provisionally released.  According to the ruling of the Court of Justice in Brazil, Battisti cannot leave his home without prior permission from the court, and will have to appear in court each month.
 Battisti celebrated this decision by lifting a glass of beer to reporters while on his way home to San Paolo, causing widespread anger in Italy.
 jp-hl