Premio per la Cultura Mediterranea 2017 awards ceremony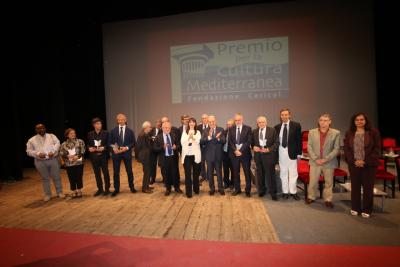 The recipients of the Premio per la Cultura Mediterranea 2017
COSENZA - Friday evening, the coastal town of Calabria was host to a night of performance and celebration of Mediterranean culture. The recipients of the prestigious awards were as following:
The Civil Society Award - Andrea Riccardi
The Human Science Award - Luciano Canfora
The Narrative Award - Gianrico Carofiglio
The Narrative of Young People Award - Niccolò Agliardi
The Information Culture Award - Francesco Sabatini
The Special Award of La Fondazione Cassa di Risparmio of Calabria and Lucania - Pietro Laureano and Annarosa Macrì
The Traditional Award - Carlo Saccone
The Guest of Honour - Padre Mussie Zerai
In honour of the eleventh edition of the Premio per la Cultura Mediterranea put on by la Fondazione Carical, writers, historians, musicians, and scientists stepped up to the stage to receive recognition for their work; their influence was in promoting, deepening and improving relationships between the cultures of southern-European countries.
 The awards ceremony for the victors took place in the decadent Rendano Theatre. There, nine influential and varied individuals received thanks for their decades of inspirational research and deeds. This evening was seen not only as a celebration but a moment for reflection and dialogue, as each recipient was invited to discuss their theories on how to better the future of Italy and the wider Mediterranean.
  Among other titles, Andrea Riccardi is known as the founder of the religious Community of Sant' Egidio and is the ex-Minister for International Cooperation and Integration. Luciano Canfora is one of the leading contemporary experts in ancient and modern history and politics, and is a member of the Scientific Committee of the Treccani Encyclopaedia. The linguist Francesco Sabatini is the Emeritus President of the Crusca Academy and became widely known for his popular vocabulary book. Gianrico Carofiglio is known for a host of widely-celebrated novels, and singer-songwriter Niccolò Agliardi is recognised partly for his work in composing the soundtrack to the TV series Braccialetti rossi. Carlo Saccone is the Director of Indo-Mediterranean Studies and Oriental Studies, and Annarosa Macrì is a respected journalist who has recently turned to novels. The architect Pietro Laureano was also celebrated, as a UNESCO consultant. Lastly, the Father Mussie Zerai, nominated in 2015 for the Nobel Peace Prize, is honoured for his work with migrants and his defence of human rights. 
HL