Italian fugitive Battisti arrested in Brazil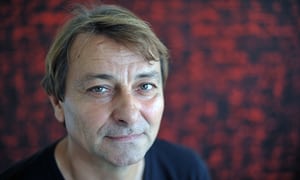 Cesare Battisti. Photo by Christophe Simon/Getty Images
CORUMBÀ - Former terrorist of Italian descent, Cesare Battisti, has been arrested while attempting to flee to Bolivia. He was taken in by police in Corumbà city at the border between Brazil and Bolivia for a falsified passport, and possession of a "significant" quantity of undeclared foreign currency, the federal police reported in a statement. Reportedly, Battisti was attempting to flee following a new extradition request from the Italian government a few days ago.
 Battisti has been on the run for several decades after being convicted of four murders in 1981. As well as this, he has also been connected with left-wing terrorist groups. Whilst he was in Italy, he reportedly belonged to the guerrilla group Armed Proletarians for Communism.
 Initially, he escaped Italian prison while awaiting trial and fled to Mexico and France. In 2004, he fled to Brazil and was awarded a protection decree there in 2010. This asylum was awarded by former president Luis Inácio Lula da Silva on his last day in office. However, it appears that the political climate has changed since this decision, as Brazilian President, Michel Temer, has stated that the Brazilian government is ready to sign Battisti's extradition.
 The Italian government's request has been examined by the Brazilian Ministry of Justice and the Foreign Ministry, and both have given favourable opinions of this demand. The Brazilian Foreign Minister, Aloysio Nunes Ferreira has said of returning Battisti to Italy that it "would be a desirable and diplomatically important gesture."
 The Brazilian President Temer is now in the position to review and possibly cancel the offer of asylum by Lula. Battisti's choice to flee to Bolivia can be understood in the light that the Bolivian president, Evo Morales, is one of the few people who would still be able to guarantee Battisti asylum despite extradition requests signed by Italian Minister Andrea Orlando.
HL