Marseilles killer identified as previous Italian resident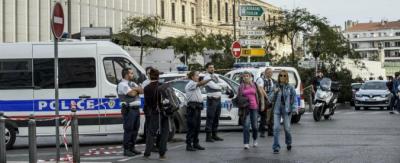 Photo by Moura from abacapress.com
MARSEILLES - Police have identified previous Italian resident Ahmed Hanachi as the killer of two women at Saint Charles Station in Marseilles. Hanachi is said to have killed Laura Paumier and Mauranne Harel with a knife in the station before being shot down by the Sentinel anti-terrorist military, as reported by Le Monde.
 Hanachi married an Italian woman in 2008, and lived with her up until her departure from the country three years ago. Hanachi's mother-in-law and her husband, who still both live in Aprilia, are currently being questioned and their home has been searched.
 Hanachi has been connected to Anis Amri, a fellow Tunisian, and the driver behind the Christmas Market massacre in Berlin last year that left 12 people dead. Reportedly, Hanachi may have met Amri in Aprilia when Amri was visiting in 2015. However, this is not sufficient to determine whether there is a singular militant group with which both are connected.
 Three years ago, when Hanachi was in Italy, he was reported to the police for some minor offenses, but, when in France, Hanachi had not been identified by French police as being connected with fundamentalist groups. According to Reuters, the 29 year-old had been living under seven aliases since 2005. Francois Molins, the public prosecutor of Paris, has stated that none of these identities had come up under French anti-terrorist lists. However, he had been detained by police two days before the attack for attempting to escape from a large Lyon warehouse with a jacket. He was noticed by the judge as having expired documents and being unemployed, yet, he was released by police on the eve of the attack. The French Interior Minister, Gerard Collomb, has called for an investigation into why Hanachi was released.
 Amaq, the media wing of ISIS, has claimed that Hanachi was one of its "soldiers" but has not provided evidence of this being the case. By contrast, the French authorities are treating the incident as a terrorist attack.
HL