Neo-fascist aggression in Vignanello, militants sentenced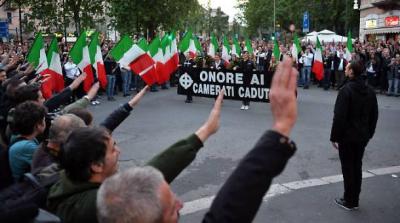 VIGNANELLO -The two Casapound militants, Jacopo Polidori and Luca Santini, were sentenced to two years and eight months prison terms for an assault that occurred in February. The attack was motivated by the victim posting ironic material about the group on facebook. The two are associated with the Cimini chapter of the Casapound movement, a nationalist Marxist group, named after American Fascist and Poet, Ezra Pound who had ties to Mussolini's regime.
The Casapound party supporters have had a history of politically motivated violence, most notably the event that has been dubbed "Strage di Firenze" in which, known affiliate of the group, Gianluca Casseri, shot dead two street vendors before turning the gun on herself in Dec-13, 2011. The group remains a marginal yet vocal minority, earning 14,118 in the 2016 Roman election, a figure that corresponds to 1.18% of the total vote.
On the morning of Oct-2, at the court of Viterbo, in front of Francesco Rigato, the process was carried out swiftly. The prosecutor, Stefano D'Arma, succeeded in sentencing Polidori to 2 years and 8 months, and Santini to 2 years and 2 months. The victim was granted a provisional sum of 5 thousand euros and compensation to be determined in another judgment. Polidori has been in custody since March and has not asked to suspend the sentence. Polidori's defender, Domenico Gorziglia, as well those of Santini, Samuele De Santis and Enrico Valentini, have already announced their appeal.
Three other suspects, who were under 18 at the time of the offence, will appear before Roman Attorney's Office.
 jp-kon