Pope Francis appoints chief critic to Vatican's supreme court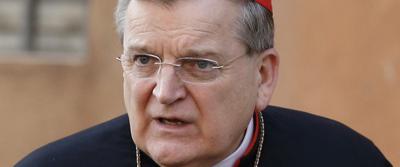 ROME -Facing mounting pressure from critics of his doctrinal reforms, Pope Francis has unexpectedly reappointed one of his most vocal conservative opponents to a seat on the Vatican's supreme court.
        The Vatican announced on Saturday that Cardinal Raymond Burke would be one of five new judges on the Tribunal of the Apostolic Signatura, a court dealing with matters of church law, of which he was head until his dismissal three years ago.
        The 69-year-old American was one of four cardinals who wrote to the Pope last year asking him to explain his teachings on marriage and divorce, which many traditionalist Catholics consider to be heretical.
        A week ago 62 Catholic scholars published a "Filial Correction" of the papal exhortation Amoris Laetitia (The Joy of Love), claiming the document contained seven heretical teachings. The suggestion that divorced and civilly remarried Catholics might under some circumstances be allowed to take communion caused particular outrage among conservatives, who see it as a rehabilitation of adultery.
        By the weekend more than 12,000 people had signed a petition in support of the correction on the website www.change.org.
        Cardinal Burke has threatened to issue his own "Fraternal Correction" of the Pope's teachings if he fails to respond to the four cardinals' questions.
        "Why would the Pope appoint Burke as a minor member with an almost advisory role to the same court from which he had been summarily dismissed by Francis himself from the position of prefect just three years ago? The same Burke absolutely humiliated in his position as prelate to the Sovereign Military Order of Malta?" the traditionalist website Rorate Coeli wondered. "It is a classic move. Not of Catholicity, but of Italian power politics."
        The surprising choice, at a time when conservatives and progressives have been engaged in an increasingly vitriolic media battle over the Pope's reforms, left many Vatican observers flummoxed.
        "It's really intriguing. Pope Francis is the master of ambiguity, a bit like the Delphic Oracle," said Francis Rocca, a Vatican expert. "It raises the stakes over an eventual correction by making it harder to say the Pope's critics are just eccentric cranks."
        Mr Rocca said the Pope was well aware the appointment would be perceived as a significant gesture, shaking up the accepted narratives that Cardinal Burke was an isolated figure or being persecuted for his principled views.
        "It makes the Pope look secure and magnanimous, sending out the message: I can afford to keep on my most prominent critic in the Vatican hierarchy. I'm not threatened," Mr Rocca said.
        "This Pope is extremely contradictory and frequently oscillates in his decisions," said another Vatican observer, who asked not to be named. "It's a cunning move, but it's very difficult to understand its sense."
 jp-hl-ppw