Venator Kingdom returns to Milan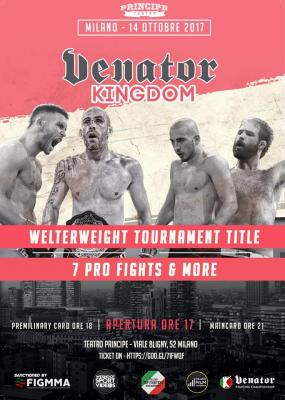 MILAN– The Venator Kingdom Fighting Championship returns to Milan on Oct 14. The welterweight competition has become a staple of the international MMA community and springboard for European fighters breaking into the UFC.
The welterweight title will be decided by two rounds of fights. The Italian, Giorgio Pietrini (11-4) will fight against the Spaniard, Eulogio Fernandez (11-7), who is currently on an 8 fight winning streak. The second semi-final is between Stefano Paterno (7-2) and Cody McKenzie (16-10).
Cody McKenzie, the AK Kid, is a former UFC fighter, famed equally for his signature guillotine and wild off-stage antics, is returning to the competition after submitting Valeriu Mircea in last year's fight. This year he is facing off against the 22-year-old Italian Stefano Paternò. Mckenzie has some definite advantages: at age 29, his experience speaks for itself, his technical ability is undeniable earning all but 2 of his 16 wins from submissions. Paternò relies much more heavily on striking, earning 4 of his 7 wins from KOs which presents a possible problem for Mckenzie whose recent losses indicate a diminishing ability to endure punishment, reflected by his loss in October last year to Joe Riggs in which McKenzie submitted to strikes. This has all the ingredients for an interest matching; the latter half of McKenzie's career has been more losses than wins but his form a last year at Venator was undeniable. Cody has a slight height advantage of 7cm that has the potential to nullify some of Paternò's striking advantage.
Also on the cards are the following fights:
Angelo Rubino (5-3) vs Gheorghe Gritko (6-3)
Marco Saccaro (5-0) vs Simone Tabaglio (3-2)
Manolo Zecchini (5-0) and Marco Manara (8-4).
The event is held at Teatro Principe, Milano, Italy
Main Card starts at 9pm (local time)
Preliminary Card starts at 6pm (local time)
Doors open at 5pm.