Pope Francis launches Caritas' migration campaign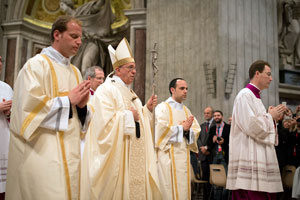 Pope Francis during the opening mass of Caritas' General Assembly. Photo by Elodie Perriot on caritas.org
VATICAN CITY - Pope Francis opened the Caritas migration campaign on Wednesday morning, emotionally emphasising the necessity of stronger relationships between migrants, refugees and local communities. He highlighted that "the desire to meet each other, get to know each other, to dialogue" were common values to both migrants and welcoming Italian nationals, and that retaining hope would be vital to building bonds between them.
 The Pope gave the inaugural address for the campaign as part of his weekly General Audience in St. Peter's Square in Vatican City. Signalling his intent to welcome migrants and listen to their journeys and stories, the Pope lifted his arms in the air in what is called a "Reach Out" gesture. Supporters of the Caricas campaign have been asked to perform the gesture and broadcast it on social media to help raise awareness. The Pope's gesture was seen by thousands, including Caritas supporters from around Italy who had travelled to the city to take part in the movement.
 The two-year campaign focuses on aiding families who have been forced to flee, and promoting Catholic social teaching to these individuals. Among other things, the campaign also calls for a week of prayer and action for migrants from Oct. 7 to Oct. 13.
 The President of Caritas Internationalis, Cardinal Luis Antonio Tagle, explained that "if we bond with refugees and migrants, we will break down the barriers with which some are trying to separate us. The campaign reaches out to recognise, restore and share our common humanity." In the press conference, he also revealed that his own grandfather arrived in the Philippines as a poor migrant.
 The Caritas campaign is backed by national organisations in more than 160 countries including the 140-member strong ecumenial ACT Alliance and several United Nations agencies, as well as numerous religious and civil society organisations.