Residents and gypsies clash in a night of warfare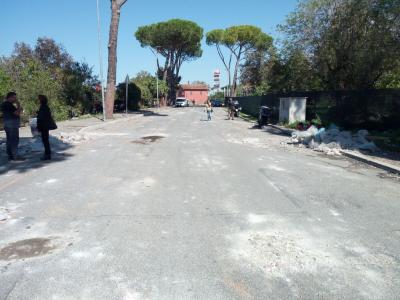 Guidonia - Photo from Il Messaggero
ROME - Panic erupted in the Roman suburb of Guidonia in the early hours of Wednesday morning as 100 residents of Albuccione hamlet clashed with gypsies living in the area. Described as a "night of war" by Il Messaggero, the two sides faced-off for hours.
 The fight was born out of a conversation between a few young male residents who were travelling to a nightclub, and a nomad who was driving a van in the area. The latter began to zigzag across the road and went on the pavement. In response, locals blocked the access roads to the Roma gypsy camp situated nearby. These 100 residents reportedly took to the streets to protest the establishment of the settlement in the Albuccione area.
 The nomad was stopped on Tiburtina Street and was found to be carrying a hatchet and brass knuckles that were taken by the police. The man was denounced for having objects intended to cause offence. He may have also intentionally set alight a garage usually occupied by nomads.
 There have also been reports of stones being thrown during the warfare. A 31 year-old Roman was taken to hospital, potentially wounded from an airborne stone. Two police agents have also been said to have been injured.
 The fight was broken up by a combined force of the Guidonia carabinieri, police officers from the Tivoli Commissariat, and the Mobile Unit. The major of Guidonia also visited the area in an attempt to restore peace to the community.