Walking back through time in the ruins of the Eternal City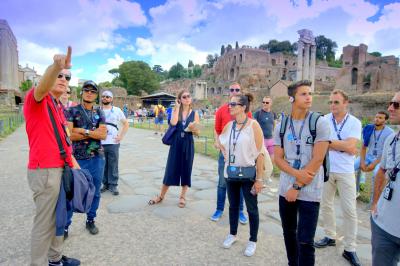 Our tour group in the Forum. PHOTO CREDIT: WOLFGANG ACHTNER
 ROME- We met by Trajan's column, bathed in the golden light of the mellow September sun, for our afternoon wander through the ancient history of the Eternal City. The group was a good size, about 15, which meant that you could hear what was going on and felt part of it, but not so small that you couldn't pause to take a photo or lag slightly behind to catch a glimpse of Caesar's memorial for example. Our guide, Guido Airoldi, made it an entertaining experience and was extremely knowledgeable, having specialised in Archaeology and been giving tours in Rome and surrounding area for the past 11 years.
 The tour began with a brief talk about the buildings in Piazza Venezia, namely the Palazzo Venezia, once home to Mussolini's Fascist government, and the Altare della Patria, otherwise known as the "type-writer" or the "wedding cake". At first glance, one may not realise that it was such a controversial landmark, built in 1911 to mark the 50 years since the Italian unification, but apparently so. Another interesting fact is that the piazza is apparently the topographical centre of Rome and all the capital's roads lead to it, giving the phrase, "all roads lead to Rome" another meaning … Maybe it ought to be all roads lead to Piazza Venezia.
 Leaving the vast piazza and Trajan's column behind, we set out from under the dappled shade of the stone pines and along the Via dei Fori Imperiali. This road was laid by the Fascist government in 1932, much to the disapproval of members of the public as it ran on top of ancient remains and divided the Forum in two. It should be mentioned however, that according to Guido, the Romans had a history of plundering buildings, stealing materials from them, remaking them and building on top of them, so in some ways it's in keeping with the whole place. The road itself is shut at the weekends and very quiet the rest of the week, only open to public transport, so it doesn't distract too much from the experience.
 All sorts of historical information was provided for us, from tales about the senators of Rome, the use of the forum for business, trials and shopping, to a detailed account of the lives of the Vestal Virgins. The latter we were told about as we wondered around their former home, able to see just how enormous the villa where they lived would have been, especially since they were only six girls living there at any one time, chosen between the ages of eight and 10 with the sole purpose of keeping the eternal flame alight.
 Everything from the types of stone used for the buildings and roads, to the way in which is was laid, was taken into consideration. We studied the remains of an original Roman road, seven layers topped with volcanic stone and leading up towards Palatine hill, whilst imagining sacred and military processions that would have taken place there during the time of the Empire.
 Rome was a militaristic society and it was interesting to learn that, after the latest conquest had been made, prisoners from foreign lands, such as England, France and North Africa, would be brought to Rome and paraded through these same streets we were walking on. Equally, Guido was keen to point out the Temple of Romulus, still in use today for performances and concerts and still with its original bronze door, as Guido said, "a magnificent door, 1700 years old."
 For all its fame and antiquity, from an outsider's perspective, the Roman Forum can seem little more than a collection of randomly placed rocks, interspersed with fallen columns and the occasional ruined building. Having been on a self-guided tour of the Forum and Colosseum earlier in the year with a friend, I can't say I'd been that impressed by the Forum. It's very pleasant to look at and wander around (maybe not so much at 30 degrees with the sun burning the top of my head) but having walked through it, unguided, for about half an hour, we decided to seek shade and a seat and I left feeling little the wiser about the whole thing. The Colosseum too, although magnificent when seen peeping through the trees from Piazza Venezia, is to the uninformed little more than an attractive Roman amphitheatre.
 This time was rather different. Leaving the Forum behind us, we headed southeast towards the Colosseum, with a pit stop at an original roman drinking fountain to refill water bottles, and coming out beside the arch of Tito with a perfect view of the most complete side of the magnificent structure. Our guide showed us the 80 numbered entrances, which led into the Flavian amphitheatre, built by emperors Vespasian and Titus purely "to entertain the people."
 Once inside, having hardly had to queue for more than five minutes, we saw the classic views of the stage and seating areas as well as a rather striking wooden model of the Colosseum as it would have originally looked. This was conveniently split in two so you could actually walk inside it and made a lovely addition to the tour. Guido also highlighted that what we were looking at was "the naked building," all the original gold, plasterwork, and marble, having long disappeared, but it's still pretty spectacular.
 Descriptions of wild beasts used to fight gladiators, as well as how the crowd would have behaved and who would have sat where were not forgotten. We even saw the tunnels where the gladiators would have come up to fight from, making it all seem incredibly real, and learnt that on one occasion, palm trees and sand were imported from North Africa, such was the desire of the emperor to be "entertained," emphasised Guido.
 After more or less two-and-a-half hours, the sun hanging low in the sky, we sauntered out into the evening light for final photos and awe inspired gazes up at our nearly 2000 year old surroundings.  The tour seemed to be of a good length. Considering all there is to see, it was sensibly calculated so as not to be so long that one was completely unable to concentrate by the end but long enough to enable all the essential information to be covered.  
 With headpieces provided for larger tours, you can be sure that you'll always be able to hear what's going on and you don't have to concentrate on reading tiny plaques, or fight for space in front of a sign describing what you're supposed to be looking at (as I usually seem to end up doing at these sorts of things). The tour gave a historical re-telling, on the actual site, which was accessible and interesting and with our guide there who was able to answer questions and point out where events had taken place.
 City Lights' can provide customised tours to suit your needs, the usual format is Forum first, them Colosseum, but for families with children, for example, there is the option to do it the other way around, so if the kids are too tired half way through, at least you haven't missed the main event. Sean and Maja were very helpful and interested and you really did feel as if everything had been taken into account. They even let on that once someone had requested an eight hour long tour (with a break for lunch), so really anything can be arranged, should you have a particular interest in Roman history or just want a fun, informative day out.
 Our group agreed that the experience was to be highly recommended, especially at the Forum (or Forums should I say- it was only after the tour that I learned there are actually three!), it was educational, excellent and an unparalleled experience that very much brought the ancient capital to life.
 To find out more about City Lights' tours and prices, please visit: www.citylightstours.com.
jp-ES
The Colosseum. PHOTO CREDIT: WOLFGANG ACHTNER
Outside view of the Colosseum. PHOTO CREDIT: WOLFGANG ACHTNER