Noemi, boyfriend's family attacked with molotov bombs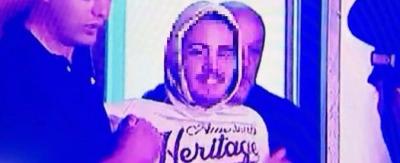 Noemi's ex-boyfriend, Lucio
MONTESARDO- In the night between Friday and Saturday, three molotov cocktail bombs were thrown in the balcony of the self-confessed murderer of Noemi, the 16-year-old girl assassinated on September 3. The three bombs failed to explode as they were thrown without being lit.  
When the attack was perpetrated, Lucio's parents were at home, and immediately called the law enforcement authorities. Their habitation has now been placed under 24-hour surveillance by the Carabinieri. The three bombs have been taken by the police officials, who are now conducting an investigation to determine the identity of the attacker.
Initially, this attack had been kept secret by the police, so to prevent a worsening of the tensions between Lucio and Noemi's families. The local prefect has commanded an increase in surveillance and protection for Noemi's family.
Noemi's family has employed Giulia Bongiorno, a lawyer specialising in assisting the families and the victims of crimes of passion and stalking.
In the meantime, the investigating magistrate Ada Colluto has confirmed the arrest of Lucio for premeditated murder ''aggravated by futile reasons.'' The 17-year-old has since been transferred to a facility for underage criminals outside of the Puglia region, while his lawyers are petitioning for his transfer to a non-penitentiary facility.
Lucio's lawyers have announced that they will ask for a psychiatric evaluation in order to determine whether the defendant can be deemed competent to stand trial.