New IFAD president's honeymoon over with frustrated staff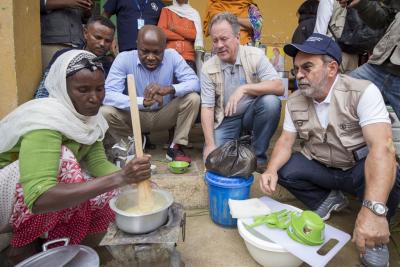 In Ethiopia, IFAD's Gilbert Houngbo, WFP's David Beasley and FAO's José Graziano da Silva watch as a woman makes a nutritious porridge at a health centre in Tigray region. Photo: FAO/IFAD/WFP/Petterik Wiggers.
ROME -- When the new IFAD President Gilbert Houngbo took over as head of the UN agency on April Fool's day, hopes were high among staff that things would finally change after eight years of abusive and dictatorial mismanagement by flamboyant Nigerian czar Kanayo Nwanze. And the start was good, during the first month Mr Houngbo said all the right things during open forums with staff.
 After almost half a year, however, staff are watching with growing concern, and sometimes disbelief, what is going on within the organisation under their new Togolese leader. A key concern for the staff community at large is that the two hugely unpopular department heads,  Perin Saint Ange of the Seychelles and Lakshmi Menon of India, are still on board.  It is widely known that they were part of Nwanze's ruthless inner circle.
  To the surprise of staff, Ms Menon's contract has even been extended despite what critics claim is her inability to operate at a strategic level and an aptitude for personal vendettas, excessive micro management and bullying and dismissal of staff. The latter is likely to lead to at least two cases brought forward against IFAD to the ILO Tribunal, according to representatives from the staff association. 
 Recent erratic appointments by the new President have also surprised the staff community. A very young, inexperienced national of Spain has been appointed CFO and Department Head of the Financial Operation Department.  A Senior Compliance Officer noted: "For an International Financial Institution (IFI) who wants to expand in the financial area to appoint a junior portfolio manager as its CFO is incomprehensible."  Recently the President also intervened and appointed a previous staff member as the new country director in Nigeria. This staff member had a number of harassment cases reported while she was heading the Nairobi office. She was not the highest ranked candidate by the panel but the President ignored these facts, to the disbelief of staff.
 In an effort to show quick results to member states, the President has launched the so called Operational Excellence (OpEx) initiative. While staff welcomes change programmes and, unlike the President, believe that there are serious issues in the organisation, not least the broken trust between senior management and staff, they are struggling to understand the process, logic and leadership of this change initiative.
 It appears to be fast tracked for the sake of speed at the cost of proper consultations and staff buy-in. New well paid consultants, who have been on-board for months, still seem to lack even the basic understanding of IFADs operations and last minute meetings are often called, without clear purpose or links to a broader road map.
 Communication to staff is largely limited to some blogs, which is clearly not best practice for any institutional change program.  The change programme also appears to lack clear senior leadership from the Executive Management Team, which is still largely comprised of Nwanze's old team, IFAD watchers say.
 Most staff sees it obvious that IFAD needs a new Vice President with a strong change management and reform background and track record. Someone that IFAD staff can trust, who can hold the reform agenda together and link it to ongoing processes. It is a role the President cannot carry out himself, while being engaged on the external area and mobilising resources for the Fund.
To rebuild the trust with staff and member states, Mr Houngbo has to let go of the culprits of the last eight years of mismanagement and unethical behaviour very quickly. But will he listen to the voice of staff? The jury is still out.
Perin Sant Ange, brother of Seychellois tourism minister