'Rotten apple' Italian cops raped Americans, minister says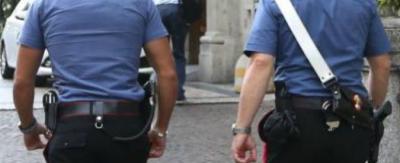 FLORENCE -- Two Carabinieri policemen who allegedly raped two young American students while on duty in Florence were described Sunday as "rotten apples" by Italian Defence Minister Roberta Pinotti in a case that has besmirched the image of a hallowed paramilitary service seen as the protector of Italy's morals.
One of the two officers under investigation has admitted having sex with one of the girls, students at an American University in the Tuscan capital aged 19 and 21, after giving them a lift home in a police car from a Florence night club. But he claims the intercourse was consensual. The two have been suspended from duty. Judicial sources said one of the girls had provided magistrates with a video of one of the officers she managed to take with her phone while she was being raped in which his uniform and pistol were clearly visible.
  The two Carabinieri were regulars at the Flo nightclub and investigators suspect they may frequently have picked up foreigners for sex, judicial sources say,
 The case comed after four coloured immigrants were arrested last month for the gang rape of a young Polish tourist on a beach at the Adriatic resort of Rimini. The far-right Northern League party leader Matteo Salvini has weighed into a debate over the cases, saying the Carabinieri must have been enticed.
The officer who admitted having sex with the American was quoted as saying "they invited us to go up to their flat. That girl was not drunk or at least I did not notice it."
Medical tests showed that the two girls were drunk and one had smoked marijuana and both had had sex. The outcome of DNA tests on the girls has not yet been released.
Under Italian law rape is defined not just as a result of violence but also as a result of taking advantage of people under influence of drink or drugs.
The Fatto Quotidiano newspaper quoted the Italian defence minister as describing the two as "rotten apples."
One of the girls was unable to stand up after the drama but the other, who took the photo,  was quoted as saying that she "did not scream because I was afraid since they were armed" with pistols.
The commanding officer of the Carabinieri corps, Gen. Tullio di Sette, has lashed out at what he termed "unworthy behaviour that besmirches the work of everyone."
A Carabinieri spokesman, Col. Roberto Riccardi, said "There is no such thing as consensual sex in such a situation. The two soldiers were on duty and so they shouldn't have done any of what instead has happened. And for this they will pay."