Maltese ambassador hits back in handbag war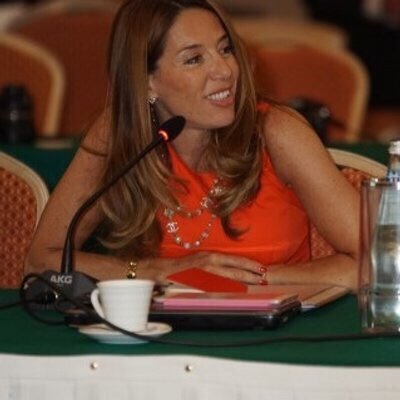 ROME- The other day, the glamorous Maltese Ambassador to Italy Vanessa Frazier was criticised online by commentators because of her choice of handbag. She responded on Facebook to what she called "sickening," remarks about her fashion sense evidently fuelling further catty comments from Maltese blogger and journalist, Daphne Caruana Galizia. 
 The handbag, given to the ambassador by Maltese designer Sunita Mukhi, features a design including the Maltese cross on its outside. Blogger Mrs Galizia denounced it a "promotional" gift and suggested that the designer was the "Taghna Lkoll faction's bag of choice", eluding to the idea that Mrs Frazier was part of the Taghna Lkoll faction which, according to the blogger, is made up of ambassadors such as "Mark Micallef (Spain), Norman Hamilton (London), Vince Camilleri (ex Paris), Ray Azzopardi (Belgium), Marisa Micallef (ex Washington)".
 It was also suggested by the rather aggressive blogger that the ambassador's career could have been helped by connections to Don Mintoff, the socialist anti-British politician who took Malta into independence from the UK, and who had links to her mother.
 When the blogger Mrs Galizia attacked Mrs Frazier online about her choice of handbag, the ambassador responded with a lengthy post saying that is was "sickening" that the blogger, "not known for her fashion sense" was making associations about the clothes that she, the ambassador, had chosen to wear with political statements she wished to portray. She stated: "I wear what I like. What I think is nice and what I think suits me".
 Perhaps the reaction is a little extreme on both sides, but can so-called associations such as these, between particular brands or designers and prominent political and diplomatic figures have a negative effect or be seen as taking a political stance?
 Choosing what to wear to an event is hard enough for a woman as it is without beginning to involve politics. Where men put on a suit and tie, women must find a new dress of an appropriate length, colour and by an appropriate designer. One only has to look at Kate Middleton's outfit choices and how they are picked over, praised and criticized by other women in blogs and magazines, to see that a lot more goes into dressing than would initially meet the eye.
 Observers said that maybe Ms Frazier shouldn't have taken to the internet to denounce the unpleasant comments of the blogger, but in the age of freedom of speech, should we not be allowed freedom of clothing too? 
ES