Raggi urges ban of Forza Nuova march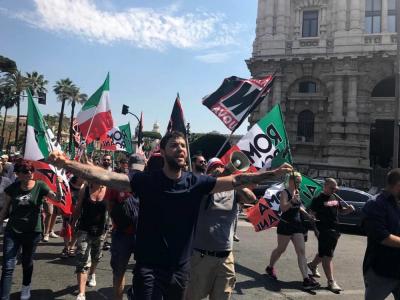 ROME- The mayor of Rome, Virginia Raggi, Thursday, is calling for the ban of a neo-Fascist march that the far-right group, Forza Nuova, says it will hold against migrants in Rome.
 The demonstration would be scheduled to take place on Oct. 28, the date chosen to coincide with the 95th anniversary of Mussolini's 1922 March on Rome. The mayor tweeted that "the #MarciaSuRoma cannot and should not be repeated". In response to the statement, Roberto Fiore, leader of the FN said that it would be "a patriotic march, not pro-fascist or nostalgic." "We want to demonstrate in the centre of Rome" he was quoted saying, "the Interior minister would be mistaken to try and ban it, to respond in this way to a movement of the people."
 If it was to take place, it is suggested that the march would include 25 thousand supporters walking through the streets of the Eternal City, dressed in the black shirt of the Fascist party. An announcement promoting the demonstration on the group's Facebook page instructed supporters to come out into the streets with "flags, banners, cars, buses and petrol".
 The uprising is apparently not in protest against the Interior minister, Minniti, but against Soros, a financial expert of Jewish origin, from the USA, who has been accused of "organising the invasion of migrants into the south of Europe".
 According to the secretary of the Italian left-wing political party Possibile, Pippo Civati, the demonstration cannot take place as it violates the constitution and laws such as the "Scelba law", which was created to prevent the promotion of Fascism, and the "Mancino law", which forbids gestures, actions and slogans linked to the Nazi-Fascist ideologies.
 Rome police chief, Guido Marino, hasalready has banned a smaller "walk for security" that Forza Nuova wanted to hold Friday evening in the high-immigrant Tiburtina area on the edge of the capital. This decision was made taking into account conditions of public order and the fact that it would occur at the same time as other important events in the city. 
ES