Housing activists protest for evicted migrants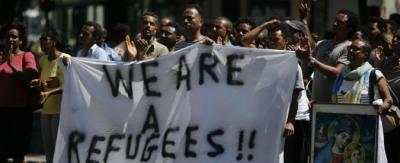 ROME - Friday afternoon saw protests for the migrants being forced to live on Piazza dell'Indipendenza, with housing activists, policemen, and the media all gathered on the square. Despite criticism against Roman mayor Raggi being absent, instead visiting Amatrice one year on from the earthquake (one woman interviewed by ANSA called this "convenient", some steps have been made to ease the situation. Some 40 old, ill or very young Eritrean and Ethiopian refugees and asylum seekers are able to return to the building near Rome's Termini Station.  
 Most of them do not want to leave another hundred of women, seniors and children still in the building. They poured into the square, and moved away for the weekend. In fact, the vast majority of them had already obtained the status of political refugee from the Italian government and the Curtatone building was used as a sort of transit station. According the the Roman council, 'the first step will be a census among migrants, then finding the best solution to the different profiles.'
 The goal of the census, according to ilfattoquotidiano.it, is to understand how many people in Piazza dell'Indipendenza have already obtained political asylum and therefore have access to housing emergency programs, those who have not yet received a response, and how many others, if any, have been denied the asylum application and will probably have to leave the country. Also among the priorities at a meeting for local municipalities to collaborate was to continue schooling for those children who had been included in the surrounding institutions for years.
 This is something that the Palazzo Senatorio, Rome's municipality, had wanted to do before but had never managed because of 'the clear opposition of those who organised the occupation.'The council is currently in talks with the owner of the building to find out whether it could re-open to accommodate these people, but only for a period not exceeding 30 days,;
 The problem started when forces 'liberated' the old Ispra headquarters, owned by the Fondo Omega Immobiliser and managed by IDeA Fimit Sgr. Several hundred migrants had been occupying the building since Oct 12 2013. The Italian Coast Guard were also searched back in March 2016, resulting in the arrests of 17 Eritreans suspected of being involved smugglers business with those who control the trafficking of human beings from the Libyan coasts.
 'But among the people who lived in the building at the time of the extermination,' the sources said, 'there were no dangerous, prejudiced people or people involved in illicit traffic.'
 The emergency situation of the building has been going on for years. The United Nations' High Commissioner for Refugees has been alerted and have said they express 'deep concern about the clearance without notice yesterday of about 800 refugees .' T
 This comes just days after Pope Francis encouraged politicians to do more to help migrants.