Tripoli coast guards return children to Libya, violating laws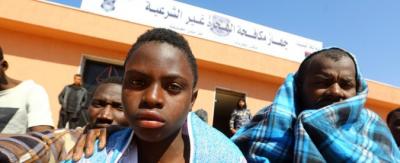 ROME- Tripoli's coast guards are stopping migrant vessels at sea and are sending children back to detention centres in Libya, a measure violating U.N. convention, according to the Italian Parliamentary Commission for Children.  
Vice President of the Parliamentary Commission for Children and the Democratic Party Sandra Zampa raised the issue. "In a deliberation voted through Parliament on August 2, there is a fundamental passage which concerns the observance of the U.N. convention on childrens' rights," Zampa explained, "that is, minors who are stopped at sea should not be taken back to Libya because the convention says that people under the age of 18 are not to be refused."
Recently, North African Coast Guards rescused and arrested 826 migrants in two different areas north of Sabrata on August 5, many of whom were children. The operation was reported by spokesperson for the Libyan military marina Ayoub Qassem. The rescued children were from Libya, Morocco, Tunisia, Algeria, Sudan, Syria and Sub-Saharan countries. All immigrants were then transferred to the Directorate for combatting illegal migration in Tripoli.
The reports follow the current polemic of Italy's collaboration with Libyan Coast Guards to stop migrant vessels at sea and the strict 'Code of Conduct' to be signed by NGO rescue boats for docking rights in Italy, which requests an armed policeman on board and for no transfers between vessels at sea to be conducted. On Friday morning, French NGO SOS Mediterranee met with Minister of the Interior Marco Minitti and are expected to reveal that they have joined the few NGOs who have signed the code later in the day.  
Italy is set to offer support to Libyan Coast Guards to "activity for the inspection and opposition of illegal immigration and human trafficking" in the Mediterranean. It has been agreed with Libya's Head of Government Fayez Al Sarraj for Italian naval vessels to monitor the seas with this goal in mind. The collaboration has raised concerns for the PD politician, however, over children's' rights which have already been breached following the August 5 operation.
The reports signal that "Italy should not collaborate with Libyan Coast Guards", Zamba stated, "firstly because Italy has recognised the U.N Convention for Children which provides for the protection of minors once they have been identified and their age known. And secondly because it is provided for in a law that all unaccompanied foreign children are to be protecting, that is Article 3 which reaffirms that sending them back is prohibited."
The Undersecretary for Foreign Affairs Mario Giro spoke on the issue: "Taking them [children] back to Libya right now means taking them back to hell… they end up in detention centres at the hands of militia, for whom it is their business. It has not yet been possible to set up "normal" camps in Libya under the control of international organisations, which is a goal to aim for." 
zt