One missing, 50 injured in severe thunderstorm in Veneto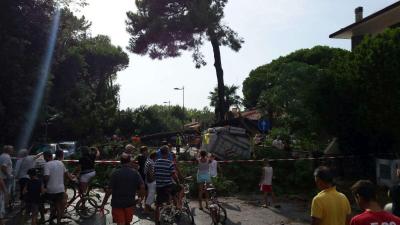 VENICE- One person is missing and more than 50 people have been rushed to emergency services after severe thunderstorms and strong winds ravaged through northern regions in Italy, according to local authorities. The President of Veneto Luca Zaia has declared a state of emergency following the devastation.
A whirlwind affected the areas of Cavallino-Treporti, Caorle, Jesolo and Bibione in Veneto, whilst heavy rain and strong winds also swept over to the neighbouring region Friuli Venezia Giulia.
The whirlwind struck down telephone lines, pulled up electricity masts and picked up trees and cars in the wind, thus causing many injuries and vast damages to property and landscapePhotos posted on Facebook show cars and camper vans with trees having split them in half and boats having been swept off the water.
The man been reported missing was last seen by several witnesses walking along the pier on the island of Albarella in the Province of Rovigo. He is then said to have suddenly disappeared, having been swept up by a wave. The fire service are collaborating in the search.
Those who were sent to hospital reported that their injuries had been sustained from flying or falling objects in the storm. The most serious case recorded was a foreign woman hit by a tree in Cavallino-Treporti who was helicoptered to hospital. She is believed to have sustained serious injuries. A house caught fire in Riva di Ariano, causing three people to be injured, although they managed to escape from the burning building.
The rest of the injured in hospital are said to have minor injuries only. 21 people arrived in at hospital in Portogruaro, 20 in Jesolo and seven at Bibione. No cases have been recorded at Caorle Hospital for the time being.
The Province of Venice is believed to have been hit badly by the storm, particularly the seaside areas between Jesolo and Punta Sabbioni. Firefighters have been working to remove trees from road surfaces and to reorganise campsites whose tents have been uprooted. 
Train services have been interrupted between the stations of S. Stino di Livenza and Portoguaro on the Venice-Trieste line.
In Friuli Venezia Giulia, 190 volunteers and 50 civil protection vehicles are working to alleviate the damages, which in the region are mainly composed of broken electric cables, causing a blackout for 70,000 people, and reduced mobility on roads and for train lines.   
zt