Qatar donates 5.6 million to post-earthquake reconstruction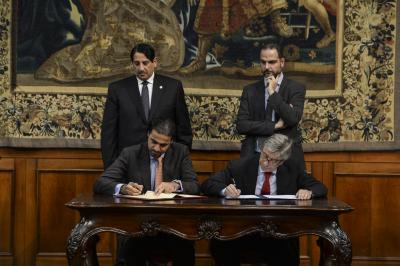 ROME- The Qatar Fund for Development have agreed to donate 5.6 million euros for the rebuilding of the Enrico Mestica school in Macerata, which was rendered unusable following the damages from the August 2016 earthquake, according to a press conference release on Thursday.
 The Government Commissioner for Reconstruction Vasco Errani and ambassador S.E. Khalifa Bin Jassim Al-Kuwari, also general director of the Qatar Fund for Development, signed a memorandum of understanding for the financing and construction of the new school complex for Enrico Mestica in Macerata, that was destroyed by last year's earthquake that hit central Italy. The new construction will cover a total surface area of four thousand square metres.  
 Abdulaziz Bin Ahmed Al-Malki, Qatar's ambassador to Italy, confirmed that the agreement serves as a testimony to "the strength of the existing developed relationship between the two countries, as well as a continuation of the signed Doha agreements during a recent visit of the Italian Minister of Foreign Affairs and International Cooperation Angelino Alfano for the political sphere, investments and military cooperation."
 The venture will specifically cover the costs for the basic requirements for the schools' classrooms. The complex will be designed and built in accordance with the most recent and rigorous anti-seismic guidelines and will also be able to be used as a strategic building for civil protection in the case of a natural disaster.
 Al-Kuwari said: "This support offered by the State of Qatar arosie from the recommendations of His Highness Sheikh Tamim bin Hamad Al Thani, the Emir of the State of Qatar, confirming that the State of Qatar is one of the first countries who have offering the Italian Government support after the earthquake." "The support will be focused on the education and scholastic sector," Al-Kuwari added, "and is in line with State of Qatar's priority to offer to help abroad."
 "The donation from the Quatar Fund for Development is a great venture of international solidarity," commissioner Errani said, "and I want to offer my thanks on behalf of the Italian Government. Qatar has concretely shown that its thoughts are with Italy and in particular with the area struck within the last year by the tragedy of the earthquake."
 Errani called the donation a "significant contribution, an important investment in the school and in the future of our children, a great message of hope capable of helping to restore calm and confidence in the populations who were victims of the earthquake tragedy."
 Present also at the signing of the agreement were the Ambassador for the State of Qatar to Italy Abdulaziz Bin Ahmed Al-Malki and advisor to the Italian Minister of Foreign Affairs Simone Petroni.
 Macerata, in the Province of Marche in central Italy, was hit badly by several earthquakes in 2016 , from which the fragile region is still recovering from the infrastructural and social repercussions.
zt
Devastation from Dec 2016 earthquake in Macerato