Thousands flock to Milan Duomo for ex-archbishop's funeral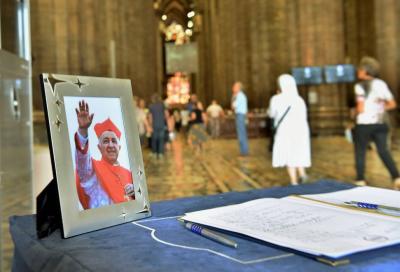 Photo of Dionigi Tettamanzi at the entrance of Milan Cathedral
MILAN- Crowds of people flocked to the Duomo on Tuesday for the funeral of Dionigi Tettamanzi, the cardinal and former archbishop of the Ambrosian diocese from 2002 until 2011. More than five thousand people came to pay their respects inside the church whilst hundreds more were left outside, unable to enter due to the crowds. Many political figures were present, as well as representatives of different religions, including Judaism, Islam and the Orthodox church and the general public who were moved by the news of the archbishops death on Saturday.
Mayor of Milan Giuseppe Sala, alongside other Mayors from neighbouring communes that make up the archdiocese of Milan, chief magistrate Luciana Lamorgese, police commissioner Marcello Cardona, Minister Maurizio Martina, former Prime Minister Mario Monti and President of the Regional Council Raffaelle Cattaneo were all present to pay their respects. Many priests and cardinals attended the funeral too, which was conducted by cardinal Angelo Scola, who will oversee the Archdiocese of Milan until monsignor Mario Delphini will take over on September 8, elected by the Pope Francis in July.
"What struck you about [Tettamanzi]," Scola said at the service, "was his permanent smile, his expression of contagious humility and his reverberating tenderness. The Ambrosian church will find a way to keep alive the copious legacy of this Father and leader.
Tettamanzi, who was once seen as a candidate for pope, died at 83 at villa Sacro Cuore di Triggio on August 5.
zt