NGO ship stranded after both Italy and Malta deny entry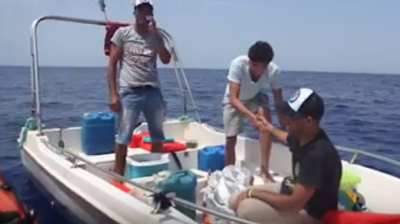 Image of the three migrants during rescue
ROME- Another NGO ship has come into difficultly whilst searching to dock on Italian shore, after not having signed the new required 'Code of Conduct', and now remains stranded at sea, according to maritime sources. Golfo Azzuro, a ship conducting rescue efforts of migrants at sea and owned by the Spanish NGO Open Arms, was denied docking rights by both Italy and Malta, resulting in a conflict between the two countries and the ship being left at sea.  On board the ship, there are reported to be three rescued migrants along with crew members.
 The crew on Golfo Azzuro told Spanish media that they conducted a rescue operation that saved three Libyans around hundred miles away from the Libyan coast and that lasted some 17 hours. The crew are then believed to have called Rome's Maritime Rescue Coordination Centre (MRCC) to report that the ship was running out of fuel and to ask for docking rights at the nearest port of Lampedusa, according to Il Messaggero. Italy then told the ship to head towards Malta, who they requested to welcome and identify the three shipwrecked migrants. Malta also denied the NGO ship docking rights; sources have said that the Maltese government are adamant that it was Italy's duty to welcome the migrants as Lampedusa was the nearest port and Italy was in contact with the vessel. On Monday night-time, the ship was still without a clear indication of where to dock and was left stranded off the coast of Malta, still but not in danger.  
 On Tuesday, crew members on the boat added to the tension by claiming that "Libyan coast guards, financed by Italy and Europe, threatened us in a very aggressive manner by shooting up in the air over our heads. Our boat was… outside Libyan water". The boat is still waiting for news on where to disembark.
 The polemic over the Golfo Azzurro's docking rights comes shortly after Minister of the Interior Marco Minniti threatened to resign on Monday over a perceived lack of support for his 'Code of Conduct' and an unwillingness to compromise on the code's conditions. Minister of the Interior is thus expected to take a hard line on the stranded NGO boat if it refuses to abide by his code.
 Italy's new 'Code of Conduct' requests NGO ships to sign before they have docking rights and saw it signed by only three NGO ships, due to protests over the strict conditions, for example that an armed policeman is on-board and the prohibition of vessel transfers at sea. Minniti has clashed with Minister of Transport Graziano Delrio over the code; the latter presides over the Italian coast guards and said "let's fight traffickers, not NGOs."
zt