Italy's universities 'third most expensive in Europe'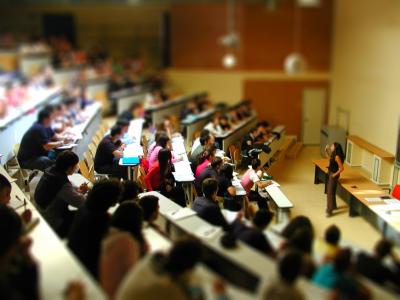 ROME - Europe's most expensive countries to study in have been revealed by Anvur, the Italian National Agency for the Evaluation of University and Research Systems. Italy, which was surprisingly placed third on the list, only grants scholarships to one in five students. "On average, one thousand euros a year, but with a big gap between North and South," explains Daniele Checchi, professor of Political Economy at l'Università Statale di Milano and coordinator of the report, to Italian newspaper Il Fatto Quotidiano. The 'right to study' is not always considered. 
 In an effort to make university more affordable, the new "no tax area" rule has introduced total exemption from fees for families with an income of less than 13 thousand euros. It will come into force next year as part of the Student Act of 2017 Budget Law. Eligible students will have to prove that they are registered with a university and to have achieved a certain amount of credits, according to Il Sole 24 Ore, who reported the tax reform back in June.
 Manuela Ghizzoni, deputy of the Democratic Party and first signatory to the law states: "This is a very important and historic step. The norm has already come into force and universities will have to adopt this law next year." To compensate, the state will pay 105 million euros. "We have also decided to grant 400 scholarships worth 15,000 euros each to help deserving students with economic difficulties." the MP recounts.
 Currently, 80 per cent of students in Italy do not receive any funding or support for university tuition. This puts Italy among the last European Union countries by number of graduates; 24% vs. 37% of the OECD country (Organisation for Economic Co-operation and Development) average.  
 On the other hand, in the Netherlands and England, both among the most desirable nations to study, where fees can exceed 10,000 euros a year, the State helps students with scholarships and facilities.
 "Our country has never seriously questioned the financing of families and the right to study in the political agenda," continues Daniele Checchi. "On average, a student pays 1000 euros per year of university fees. There are also marked territorial differences: in the South the taxes are less than 500 euros, while in the north they can reach 1,300 euros. Universities cover less than 20% of the total fees. Italy, which reserves less than 1% of GDP to funding education, can not compete with countries such as France and Germany that invest more than a half."
 For Professor Checchi, "the 2018 reform is very reasonable. All students with serious economic difficulties have the right to study guaranteed. In Italy, the 'right to study' is down to the regions. The government allocates funds to the regions, which are then free to add others to create scholarships. Unfortunately, unbalances are created. In the North, 80% of the right-holders get a scholarship, in the South only 10%."
 With the no tax area, Ghizzoni hopes to reduce the phenomenon of  leaving university early. "It's one of the measures we hope will help counter this trend," she explains to Il Fatto. "Getting to the levels of France and Germany is very difficult, but this is an important step. The target is to reach 40% of graduates, equal to the European average. I think it's a big step forward for education."