Italian government expands NGO boat investigations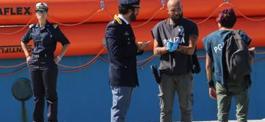 TRAPANI - Italy's year-long enquiry into NGO migrant rescue ships is being expanded. Acting as a sort of 'alternative coast guard', much to the annoyance of the Italian government, unknown fibreglass boats were spotted escorting migrants from smugglers to NGO ships, as well as providing and collecting boat parts and motors. Emmanuele Cersosimo, Trapani's Preliminary Hearing Judge, said that "There's a reason why the Italian Maritime Rescue Coordination Centre (IMRCC) is against "small boats," and it's because these boats are just taxis." 
 Jeuray Awale, a Nigerian migrant, recounted to a policeman and Il Messaggero what he saw when he was being rescued by Sea Watch 2 in June: "a black and white fibreglass boat came towards us with one person on board who had long Rasta hair and a straw hat. He showed us the way to go to reach the boat that would then save us."
 The German Iuventa ship called Save the Children's Vos Hestia boat with details of its location, whilst at the same time performing a 'parallel rescue service' to that provided by the Italian National Centre, who are usually responsible for rescues, according to Italian daily Il Messaggero. They declared, however, that these services are completely free of charge. 
 Iuventa has also met in the waters near Lampedusa with the mysterious "Shada" boat, thought to be a French tanker. This is worth noting, as initially the boat bore a Bolivian flag and is now without flag. "Shada" was recently inspected by the marina military.
 On Tuesday, German NGO "Jugend Rettet" ship and its computers were seized in the name of the prosecutor who was in Lampedusa at the time. Policeman will make technical investigations into the PCs as well as any other on-board tools that can explain the boats role in rescuing migrants. The charity has announced an appeal against the seizures, which took place because of the NGO's "ignorance in favour of illegal immigration."
 According to the government, the Iuventa crew took on refugees who were not in danger from near the Libyan coast at least three times. There is a suspected deal between the Iuventa ship and illegal smugglers, who even had their boats returned to them by the charity. Iuventa's actions, which could be punished by the penal code were, however, as specified by magistrates, dictated not by profit, but by humanitarian motives. 
People are becoming angry on social media after photos surfaced of the smugglers and Iuventa's dinghy were pictured very close together.  M5S politician and Vice President of the Chamber of Deputies Luigi di Maio posted a video on Facebook saying: "We need laws, not simple code of conducts, when it comes to NGOs. We filed for one a month ago which ensures the presence of  law enforcement policemen on board the ships. The PD has the numbers to put it through immediately. Even if it takes reopening Parliament in August to approve it. […] We were right about NGOs…"
Jugend Rettet wrote on Twitter: ''Life saving for us is, and will be, the priority and we are sorry that we cannot work in the search and rescue area at this time." The leaders of the humanitarian organisation are expected to come to Italy in the next few days to meet an Italian lawyer who an expert on immigration law.