Italian chopper fights off Tunisian attack on fishermen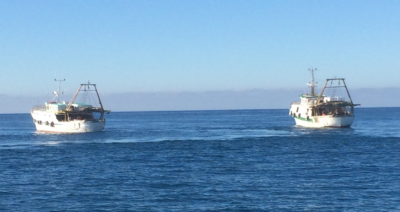 MAZARA DEL VALLO, Sicily - Two fishing boats from Mazara del Vallo, in the Sicilian province of Trapani, have been attacked by a Tunisian coastguard vessel sailing off the coast of Zarsis, a town on the border between Libya and Tunisia, in international waters, maritime sources said Thursday.    
 A few gunshots we fired from the boat towards the two vessels, who immediately rung the radio alarm. An Italian Navy helicopter and a Tunisian military motor boat intervened immediately, forcing the attacking boat to retreat. It reportedly belonged to Tunisian customs authorities, according to President of the Fishing District Giovanni Tumbiolo. 
 The incident happened amid rising tension in the Mediterraneabn at the same time as Libyan General Kalifa Haftar reportedly ordered his forces to bomb Italian ships engaged in the upcoming naval support mission to Libya. This can be found in a tweet by the Arab World's leading news channel, Al Arabiya. Haftar, a powerful man in Libya's Tobruk parliament in Libya has expressed opposition to the Italian naval operation.
 The Italian government, however, is not convinced of Haftar's statement and has claimed it is "unjustified news", according to the Italian daily Il Messaggero.
 Italian Minister of Defence Roberta Pinotti announced, during a hearing at the Italian Senate's Commission, that "We will provide logistical, technical and operational support for Libyan naval vessels, helping them and supporting them in shared and coordinated actions. There will be no harm done or slight given to Libyan sovereignty, because, if anything, our aim is to strengthen Libyan sovereignty," she added, emphasising that Italy was not intending on imposing a blockade on the Libyan coast. 
 jp-vk